When it comes to website design, identifying the primary conversion goals is pretty straightforward: sell tickets and collect donations. But what about all the other content; should everything on the site be designed to funnel into the hard-sell targets? In short, no; but the lack of clearly defined conversion goals can make content planning a real chore.
Using sales goals to design engagement oriented content is a slippery slope; it can make copy come across as crass and ham-handed. At the same time, it's always easier to effectively design content inside clearly defined parameters.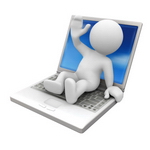 So in order to help break out of hard-sell blinders, begin using social engagement action as a primary non-economic conversion goal. Inspiring website visitors to share something through Facebook, Twitter, Google+, and the host of other social media platforms (which we'll just call "FaceTweet+" from here on out) is a nice way to promote engagement and soft-sell the primary goals of tickets sales and donation.
It also provides a nice way to promote intuitive user flows instead of siloed single page designs. But in order to begin putting all of this in motion, you'll have to make sure your website is capable of integrating social bookmarks (those little icons users can click that connect them with their respective FaceTweet+ account and create a link to the respective page content).
If the 2011 Orchestra Website Reviews are any indication, a number of orchestras will need to clear that hurdle before reaping any of these benefits. But in an ideal arrangement, you'll have the ability to integrate social bookmarks throughout page segments in addition to the standard full page usage.
Perhaps unsurprisingly, the broader goal is to help build a stronger connection with existing patrons through targeted engagement. Ideally, your group will have someone with the responsibility for tracking social sharing to interact with the respective patrons accordingly so that the engagement isn't merely one-way (and therefore less likely to inspire reciprocal engagement).
Each social share will, in turn, help build a larger online buzz (pardon the jargon) that will serve as the entry point for new user flows which guide visitors back up the funnel toward all of your conversion goals.
Perhaps the best part of this process is it can be comparatively easy to track if your social bookmarking functionality provides metrics that drill down deep enough to log entry/exit pages.
[sws_pullquote_right]With a little bit of time and experience, you can begin to craft some very clever two-way user flows that don't rely on the landing page to maximize conversion. [/sws_pullquote_right] As a simple example, a guest artist profile page could contain a social bookmark that a regular patron uses to FaceTweet+ the page with some sort of personal comment "I love [artist name], his/her recording of [name of work] is fantastic." From there, someone within the patron's social circle picks up on the notice and uses the backtrack link to enter the site via the artist profile page.
With a little bit of time and experience, you can begin to craft some very clever two-way user flows that don't rely on the landing page to maximize conversion. Instead, they do an effective job at allowing users to self-select which funnels they identify with most and now that you've revised your content within the hard-sell/soft-sell conversion goals, the overall user experience should be far more organic.