Who said classical music was dying? In Chicago, it looks like the Chicago Symphony Orchestra (CSO) with Riccardo Muti is such a big hit that the patrons are fighting for seats. In case you haven't heard, a fistfight broke out in one of the boxes during last Friday's concert. As reported by Stefano Esposito in the 3/9/2012 edition of the Chicago Sun-Times, the fight broke out between a man in his 30s and a 67-year-old man.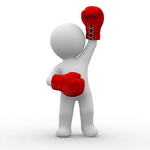 The article, which has been shared on Facebook in excess of 2,000 times, reports that the altercation didn't stop the performance but did leave the older man with a cut on his forehead. Since that article, Google reports nearly 300 news articles about the event and one of those is from the Chicago Tribune's John von Rhein which includes an interview with CSO music director Riccardo Muti who was conducting that night and was toward the end of the Brahms' Symphony No. 2 when the fight broke out.
By all reports, Muti handled the event without adding any undue attention to the events in the box.
The scuttlebutt here in Chicago indicates that like many stories which end in a fight, it started with "Well, we were drinking…" At the present it is unknown if the older patron will press charges and the younger man has yet to be identified.