In an age when contentious labor disputes abound, it's nice to run across a situation where stakeholders reached an agreement without resorting to public mudslinging. Case in point, the St. Louis Symphony Orchestra (SLSO) announced they reached a new four year agreement 14 months ahead of the current contract's expiration date.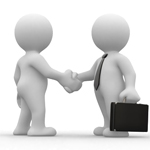 The agreement itself is interesting in how unexceptional the terms are; in the age of new models, it's almost quaint in its conventionalism. There are no huge cuts, no sweeping austerity measures, and no one got rid of tenure. Instead, the new agreement provides slight increases in base compensation and pension contributions along with a modest work rule adjustment that provides for scheduling additional concerts.
Here are the agreement highlights (as reported in an SLSO press release):
Compensation increases: 0%, 1.0%, 2.0%, and 2.0%.
1.5% increase in pension contribution rate over the term of the new agreement.
Work-rule changes that provide for scheduling additional concerts including Live at Powell Hall events.
The organization is presenting the agreement's stability as a selling point for donors and philanthropic giving. And after a steady diet of pure capsicum extract infused cinnamon cayenne ice cream, folks may be lining up for a nice scoop of refreshing vanilla.