Not long ago, the site ATXClassical.org launched. The brainchild of Marc van Bree (the very same MVB that authors The Dutch Perspective), the site is designed to serve as a showcase for Austin, TX classical music and culture reviews, events, and quite a bit more. The idea isn't new but what should get your attention is the quantity and quality of the site's content.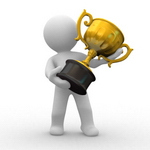 This is much more than a mere community calendar with some cheerleader style puff content; it has some heavy duty analysis related to the Austin classical music community. For example, one of ATXclassicla's latest posts is an in-depth examination of data gathered from GuideStar.org on 17 different classical music nonprofit organizations in Austin to determine the state of overall economic recovery.
This piece is no small undertaking and if it is representative of the sort of content visitors can expect at ATXClassical.org, then the folks in Austin should consider themselves quite fortunate.
Most folks in this field know of similar efforts from Foundations and the like which pour thousands and thousands of dollars into projects like ATXClassical.org but aren't half as good; or worse, end up in perpetual committee mode.
So Kudos to MVB for directly shouldering the entire load and putting together an exemplary site that is not only the newest jewel in the Austin classical music environment, but serve as a terrific model for similar efforts at other cities.