Last Sunday's SoundNotion.tv program was a great deal of fun; as always, thanks to David, Nate, Sam, and Patrick for having me on. The program covered a number of topics, with the lions' share on the show's primary theme of the recent rash of labor disputes. But I was struck by how much interest there was among the hosts on the topic of voting and the arts.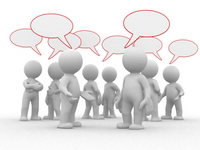 They were especially interested in last week's poll designed to provide reader's a way to vote on how important a candidate's position on arts and arts education funding is in their voting decision. I was genuinely surprised at how much interest the post generated and was very pleased to see the level of conversation going on in the comments section.
That part of the show picks up around the 33:00 mark so you can skip ahead or take your time and enjoy the entire program. Either way, be sure to drop by the SoundNotion.tv site for program notes as well as an audio track of the show.