Watching the news follow the path of Hurricane Sandy last night with reports of fires in hospitals, record flooding, and millions without power made me think back to the floods in Houston back in 2001 and how much damage that caused at the Houston Symphony and other Houston area arts groups.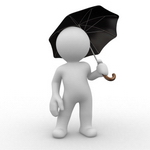 I'm sure everyone is hoping for the best for colleagues and friends at arts organizations in areas hit hardest by the storm.
To that end, I have a request to folks from those groups today: if you're online and have been back to the offices and/or venue, post a quick note in the comments section to give a report on how you're doing. I'm sure everyone will appreciate having some firsthand information.