Out of all the orchestra mailing lists I subscribe (over 100 so far) it never ceases to surprise me how few offer any sort of thanksgiving holiday shopping promotion. In fact, so far this season, the only one I've received is from the Seattle Symphony Orchestra. Granted, not every group is going to have offerings suitable for a Black Friday but I was still expecting more than just one this season.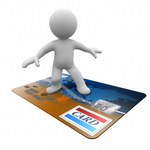 But one aspect in all of this that's worth consideration is whether or not Black Friday is even the way to go for orchestras. Current thinking tends to divide the post Thanksgiving shopping season into three parts: Black Friday, Small Business Saturday, and Cyber Monday.
For orchestras, brick and motor sales aren't exactly a primary point of contact for ticket buyers so it's worth considering the value in focusing efforts on the latter two options.
The 11/21/12 edition of Forbes.com has some interesting thoughts on all of this from Carol Tice that are worth reading; in the meantime, I'm curious to know if any other orchestras are offering a Black, Small Biz, Cyber deal; if so, post a comment to let everyone know.
Postscript: right after publishing today's post, I received a Black Friday email offer from Longwood Symphony.