The beleaguered New Jersey Symphony Orchestra (NJSO) continues to deflect negative press following the Richard Dare scandal. After calling a press conference to officially release their 2013-14 season, NJSO spokespersons reportedly became agitated and short with reporters who, perhaps unsurprisingly, were inquiring about the Dare ordeal.
Brian Wise from WQXR authored an article that was published on 1/29/2013 reports that the NJSO's artistic leadership expressed confidence in the institution.
"I feel very confident about the future of the organization artistically," said music director Jacques Lacombe. "And financially, we're doing pretty well for a challenging period."
However, the Dare ordeal may very well impact finances for an organization that has endured a series of budget cuts. The 1/31/2013 edition of the New Jersey Star-Ledger published an article by Peggy McGlone that indicates the NJSO is beginning to point the blame finger squarely at Dare.
When the Dare scandal broke, early reports made it clear that the members of the NJSO executive committee were aware of Dare's past. But in McGlone's article, those same individuals are now claiming that Dare deceived them.
"Dare's version of what happened was quite different. Had we known he was guilty of the offense, we would not have hired him," said NJSO co-chairman Stephen Sichak.
Who Knew And When
As it turns out, The Star-Ledger article investigated those precise questions and here's what they uncovered:On 1/15/2013, I published an article that laid out a number of the pressing challenges for the NJO board given the degree of culpability known when the scandal broke. At that time, I pointed out that the greatest challenges for the board related to which members of the search committee knew about Dare's past and how much of this information was brought forward in transparent fashion to the committee as a whole as well as the full board.
The executive committee members who knew about Dare's history did not share the information with the full 25 member search committee.
The executive committee members who knew about Dare's history did not share the information with the full NJSO Board of Trustees.
The search firm retained by the NJSO, H.C. Smith Ltd., completed a criminal background check but did not confirm whether or not it produced any information about Dare's convictions or the extraordinary exaggerations in his professional accomplishments.
As of now, it appears the NJSO is attempting to limit damage by reducing the circle of those who knew about Dare before he was offered the top administrative position to a few members of the executive committee. In turn, those members are now asserting that Dare deceived them and that many of their reference inquires were not returned.
The Damage Control Two-Step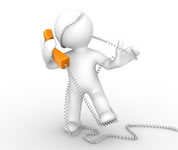 McGlone's article contains ample servings of castigation toward how the NJSO behaved from an array of public relations and executive recruitment professionals. By and large, their insight is accurate in that the NJSO may have an increasingly difficult time emerging from this scandal unscathed.
And it isn't just the NJSO who is backpedaling in an attempt to escape the Dare scandal undertow.
The Star-Ledger article reports that although Dare listed himself as a senior faculty member of the League of American Orchestras, their spokeswoman stated that position does not exist in the organization.
Although that's undoubtedly an accurate statement, it doesn't clarify what sort of role Dare played in the organization's professional efforts nor does it spell out what sort of interaction existed between Dare and League officials.
The managing director for the search firm responsible for vetting Dare, H.C. Smith Ltd., was quoted in the Star-Ledger article saying "The candidate himself brought the information to the orchestra. I really don't want to say any more."
At the time this article was published, the firm's website, www.hcsmith.com, was not functioning, however, some quick Google searching produced results confirming that H.C. Smith Ltd. is engaged, or was recently engaged, for executive recruiting efforts for the Rochester Philharmonic (Pres. & CEO, VP for Dev, and Dir of Marketing & Patron Services), Albany Symphony (ED), Buffalo Philharmonic (GM), and the Interlochen Center for the Arts (ED of Interlochen Presents). The firm is also listed in the League of American Orchestra's organizational directory at their league360 website.
What's Next?
How the NJSO navigates damage control waters and how they emerge from their latest ordeal will likely serve as a fascinating case study. As of now, their strategy appears to be focused on limiting exposure (only a few members knew of Dare's past), redirecting blame back toward the culprit (Dare deceived them), and stonewalling (liberal "no comment" replies to reporter inquires).
It isn't a bad strategy but the final item is what will most likely prevent success. Ideally, transparency would only help bolster their assertion that Dare was misrepresenting his way into an executive position. But if NJSO spokespersons continue to snap at reporters and the executive committee members claiming Dare misled them fail to pursue any sort of damages in response to Dare's disputes, they can't expect to get much mileage out of that strategy.
For example, since Dare resigned, did he qualify for any severance package? If so, and the NJSO's claim of being deceived is something they can prove, then the orchestra is in a good position to either deny those payments or pursue recovery.
Nevertheless, if the NJSO hopes that making assertions and allowing Dare to dispute those claims via his attorney then hoping that everything will simply fade away all while deflecting questions, they may discover that this damage control strategy may produce unexpected results.