The Strad recently reported about an incident at Chicago's O'Hare International Airport and cellist Alban Gerhardt that ended with Gerhardt's Heinrich Knopf bow fractured into two pieces; in short, this is one of every string musician's worst nightmares.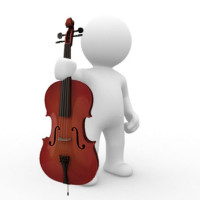 There's no official word yet on what Gerhardt plans to do next but it seems clear from his depiction that the Transportation Security Administration (TSA) is at fault.
According to Gerhardt, 'The bow must have somehow moved halfway out of its cover (the tip was still in the cover), and when it was halfway out, [Transportation Security Administration workers] forced the case shut and the bow broke.'
Presuming Gerhardt's account is accurate, I genuinely hope that the TSA will not only provide adequate recompense but institute training measures to help prevent musicians from suffering this sort of needless tragedy.