During orchestral labor disputes, there is no shortage of tactics employed by both sides to distribute static messages to the general public, but few can try your patience more than the conventional editorial commentary found in traditional news outlets. To be fair, the warring factions aren't to blame here, they're merely taking advantage of a third party communication vehicle to deliver their talking points; instead, the outlets are to blame.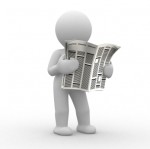 For those on the outside looking in, one of the most common byproducts during prolonged labor disputes is mounting irritation over a lack of responsiveness from all parties involved. Those suffering the most from work stoppages have little to no ability to engage either party in meaningful discourse; in its place, they have to chew through regurgitated talking points and one way communications.
But in a day and age when two-way social interaction is as common as fries with your burger, the phenomenon that is the contemporary orchestral labor dispute appears to be exempt. Overall, that's a real shame since even though it is far from perfect, the practice of corporate accountability via social media blowback is a tangible force for positive change.
Why then do traditional media outlets allow representatives the opportunity to express their talking points in a relatively unedited format without also requiring them to engage in any ensuing public reaction?
Case In Point
On 2/26/2013, MPRNews.com published a commentary piece written by Lloyd Kepple, who in his capacity as a Minnesota Orchestra Association (MOA) board member was acting as a spokesperson for the MOA.
MPRNews.com allows readers to post comments and in exchange for that privilege, the reader must create an account and agree with MPR's terms and conditions before posting. It's an entirely reasonable exchange and helps foster a meaningful discussion environment while simultaneously marginalize trolling.
Kepple's commentary post generated a good bit of comments (25 at the time this article was written) but nowhere in the discussion thread did Kepple or any other MOA representative (or for that matter official musician representative) respond.
Unfortunately, it doesn't appear that MPR requires commentary authors to actually engage with the readers they are attempting to reach. Therein lies the rub.
Simply put, failing to require commentary authors to engage with readers is tantamount to willful exploitation for commercial gain. Sure, the outlets want provocative commentary and they want readers to get upset and send in comments because it means more traffic and (hopefully) more revenue.
But in this instance, how does this policy help make the MOA labor dispute any better? Kepple's article didn't contain any new information; it was simply the latest repackaging of the same old talking points that have been circulated for the past several months.
How Things Should Work
Ever since the onset of comments and discussion threads, Adaptistration has maintained an Equal Time Guarantee policy that provides any individual or organization mentioned in one of its posts the right to respond in an unedited reply. However, in order to take advantage of what is a very generous policy when compared to traditional media outlets, they need to embrace the concept of two-way civil discussion.
In order to ensure accuracy and that every side to each issue is explored in detail, any individual or person officially representing an organization featured in an Adaptistration article is allowed to submit a response which will be published, unedited. Responses are limited to 200 words and must address the issues at hand and the individuals and/or organizations must also be willing to maintain an open dialog for continued discussion. In lieu of this option, individuals may opt for submitting a comment, which is subject to the terms above.
If you aren't willing to examine, defend, and relate with your audience, then you have no business enjoying the exposure provided by media outlets.
Ultimately, if MPR didn't encourage and accept comments, this would be a non-issue. But that's not the case and rest assured, MPR is far from alone on this issue; in fact, I don't know of a single traditional media outlet that allows reader comments and maintains a required dialog requirement for commentary authors (if one exists, I'd love to know about it and I will promptly correct this post to give credit where credit is due!).
Isn't it high time you started demanding more from your information providers?