It has been a very long time since a reader comment has been posted as a formal entry but a recent comment to the discussion thread from the 3/26/2013 article about the San Francisco Symphony work stoppage deserves the attention.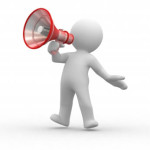 For the sake of perspective; although this reader did post under an anonymous moniker, s/he did go through Adaptistration's regular vetting process and at the end, it was clear that this individual deserved the protections against professional retribution.
The comment is presented here unedited and without commentary. I encourage every reader to post your thoughts and observations via your own comment to this post but be very clear that Adaptistration's comment policy will continue to be evenly and strictly enforced.
That isn't to say anyone should avoid challenging ideas and positions but resist any urges to slide into personal attacks or veering off topic; not to mention anything considered spam, inappropriate advertisements and/or promotion, and generally uncivil in nature. Quite the contrary, healthy debate is good for transparency but take the high road. In the end, it generally helps build a stronger position.
You want specifics about work rules? I'm not sure why.

Will it help you understand why 100 people would go without pay, and soon, health care, for however many weeks this strike goes on?

Will it help you understand why 100 people give up at least $2700 a week for the job that many believe could be done by high school students?

Will it help you understand why the Chicago Symphony musicians, Boston Symphony musicians, and National Symphony musicians support the SFS musicians?

Here are some interesting specifics….the SFS (SFO is an airport, by the way), since 1984, has had 5 strikes, and two almost strikes. The almost strikes were averted by two tours, one Asian, one west coast. Brinksmanship, or pressure point….you be the judge, as you have been.

In the same 29 years, the Los Angeles Philharmonic has had NO strikes, or work stoppages. The contracts, pay, healthcare, pensions are similar. How does one organization, or 'institution' achieve and maintain 'harmony' without union thuggery (big time sarcasm), while the other, 400 miles north, historically has not been able to maintain this harmonic convergence.

Musicians must be at fault, those damn greedy, whiney musicians with a sense of entitlement, who have no concern for the health of 'the institution.' Yeah, that's the ticket.

Was it the musicians, the union thugs, who drew $3 million dollars for the endowment for a 'feasibility study'…..is it feasible to spend $500 million dollars for 'improvements' to a building, which is owned by the city? Oh, but the deficits….big, big, big deficits….better yet, the beloved term…'structural deficits'….I guess the musicians are the structural deficits.

Who should decide the compensation for the musicians….the public, the board? Should the musicians have a say in their compensation? It's called negotiations….collective bargaining, the scourge of the current decade. How to get rid of the 'structural deficit? Get rid of the musicians, yeah, that would save the institution…keep it viable.

After all, aren't there thousands of musicians out there? Put an ad in CraigsList, like the Louisville Symphony did….

That's right. When there is concern about the health of the 'institution', and musicians are not a part of that 'institution,' they are the PROBLEM with maintaining the health of the 'institution.' Again, musicians=structural deficits.

Here are some more specifics: the Collective (meaning the musicians) Bargaining Agreement expired in late November; an extension was agreed upon to February 15. From February 15 until March 13, the musicians played without a contract……little movement toward the middle had occurred since the previous July. All movement came from one side, with the other side sitting with arms folded…."not good enough, try again" (a phrase musicians are used to hearing).

This work stoppage comes as a surprise to 'the public', because the public is not sitting in hours of meetings (including hours of meetings about when there will be meetings). After the meetings, the musicians go on stage and play concerts, or go home at midnight and practice, and do laundry…..I'm not sure what the 'other side' does after hours of meetings….

You want specifics, different specifics? Will more specificier specifics help you understand why SFS musicians go on strike to play for compensation similar to LA Phil musicians, and LA Phil does it with no strife (I gather that musicians are supposed to apologize for making the money they make, defend that, but folks in the financial 'industry' are 'entitled' to more compensation)?

Wouldn't it be nice to have a soundbite, a headline, to tie this up with a bow? If you think musicians are not so great at achieving this, the soundbite, perhaps it is because they usually are practicing, learning, relearning, always learning Beethoven, Mahler, Messiaen, Adams, Lidholm, Bernstein, Ades, Brahms, Dutilleux, Britten, Mozart, Sibelius, Shostikovich, Bartok, Bates, Bruckner, Rimsky-Korsavkov, Tchaikovsky, Haydn, Bach, Mahler, Mahler, Mahler.

No matter what, it is the musicians who will be blamed for seeking a Pyrrhic victory…always the musicians fault, always…..what's up with that?

You think this is frustrating to you? Welcome to the club.