The Minnesota Orchestra Association (MOA) moved another minute closer to doomsday this week following a decision to cancel concerts through May 12, 2013; in this case, doomsday is marked by organizational collapse and subsequent liquidation bankruptcy.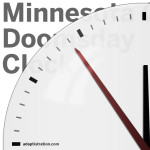 If the cancelation weren't reason enough, the MOA decided to set aside the progress that appeared to be taking place in the form of both sides agreeing to terms for a financial analysis, and break off those side negotiations and launch their own effort. Since proposing the analysis, musicians have maintained that the effort should encompass artistic decision making process, specific decisions, as well as board performance.
According to an article by Euan Kerr in the 4/16/2013 edition of MPRNews, the MOA backed away from those parameters to place restrictions that removed any measures related to "artistic quality of the music director or the musicians, the comparative quality of other orchestras, programming decisions, performance of management or staff, or board quality/competency."
The decision reportedly came as disheartening news to musicians.
Tim Zavadil, chair of the Musicians Negotiating committee…says the musicians were under the impression they were still talking about how to do the analysis and he was flabbergasted to hear management has decided to go ahead on its own instead of together with the musicians.
If that weren't enough, the MOA distributed a note to supporters on 4/12/2013 that utilizes some of the more egregious old school labor dispute tactics in the form of defining the musician employee work week as a part time endeavor.
Hours Worked: Musicians perform 42 weeks per year. Schedule is based on an average of 21* hours of work per week (allowing time for private practice and freelance work) with no more than 5 hours of work per day.
In what is perhaps best described as a misguided effort to quantify that misnomer, the MOA's communication included the following footnote for the 21 hour work-week reference:
A 21-hour work week is commonplace at major American orchestras. It gives musicians time to practice in order to stay competitive. The 21-hour week also allows musicians to hold secondary jobs that contribute to our cultural community. Minnesota Orchestra players serve as faculty at more than 20 music institutions and perform in dozens of chamber ensembles.
What that statement fails to acknowledge is the time spent outside of ensemble rehearsals is used to prepare individual parts.
Simply put, the division of work performed in rehearsals and that dedicated to individual practice is in no way mutually exclusive and no different than typical for profit employers that offer flex-time to employees for the purpose of working remotely. Meaning, a 40 hour per week employee afforded flex-time is still a 40 hour per week employee even though s/he is no longer in the office 40 hours per week. The expectations vis-a-vis duties and responsibilities remain unchanged, so the MOA's reasoning for presenting their full time musician employees as working anything less than a typical 40 hour work week is not only baffling, but ultimately self defeating.
In the end, whatever perceived progress made by the MOA and musicians since January has been effectively erased, thereby hastening the rate at which the organization moves toward midnight on their doomsday clock.