I've been deliberately holding off writing anything about the real-time game of chicken going on between the Nashville Symphony Orchestra (NSO) and Bank of America over the latter's decision to foreclose on the Schermerhorn Symphony Center in order to see if the situation resolved itself. But since that didn't happen over the weekend, it is high time to weigh in with some thoughts.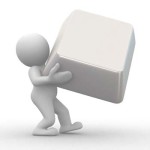 I had the pleasure of speaking with Tennessean business editor Lance Williams about the NSO's situation from the perspective of what sort of options might be available, how it compares and contrasts with other hotspots in the country, and why stakeholder relations are more important now than ever.
The interview was published as a webcast at the newspaper's website, and I have to say that compared to the traditional method of a telephone interview, it was fun to cover everything in real time via Skype. From what I understand, this is a newer offering and they are still working toward a seamless process for integrating Skype video/audio into the webcast format. Technical learning curves aside, the audio is fine and if you get a smile out of mid-sentence video freeze frames, then it's a double bonus!
We'll certainly be diving into this topic for future posts but in the meantime, the thing you need to keep an eye on are the labor negotiations. If it degrades into public infighting between the NSO's board and musicians, you can expect to see everything unravel in short order, which is exactly what I discussed in greater detail with Jamie McGee in the the 6/10/2013 edition of the Nashville Business Journal.
And speaking of maintaining a united front, it was fascinating to see the Tennessean publish an editorial that cries foul on what some might describe as the Bank of America's dystopian financial practices. In other cities with mortgage oriented orchestra troubles, editorials tend to favor lenders by calling for austerity and marginalized cultural achievement.
As such, it is a must-read among the chorus of reports on this topic.