If it seems like there hasn't been much news in the Minnesota Orchestra Association (MOA) labor dispute, you aren't imagining things. However, there was a kerfuffle earlier in the month over revelations that the organization paid President and CEO Michael Henson huge bonuses at the same time the institution was gearing up for what would become the ongoing season killing lockout.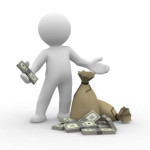 Perhaps unsurprisingly, the MOA released statements justifying the bonuses and showed no sign of reconsidering their decision. Consequently, much angst was vented in social media and comment threads at traditional newspaper
outlets covering the story.
Most discussions on the merits of rewarding effort vs. achievement and what, if any, sorts of independent executive compensation review measures were implemented by the board don't amount to very much. In the end, it all comes down to the people involved; simply put, those with the will to abuse a system that has next to no recourse for correcting abuses will do exactly that.
The ugly reality here is until the field decides to address this issue with transparency and takes self regulation seriously enough to begin rewarding stalwart governance and penalizing those bent on abusing the system, don't expect things to change.
As for Henson's bonus, you can count on the MOA leadership not caring whether it impacts the dispute or not nor should you expect them to backtrack on their justification.