I'm off to Portland, Or for the 2013 National Arts Marketing Project Conference (#NAMPC) where I'll be taking place as a panelist for the Winning Websites: Optimizing The Patron Experience session.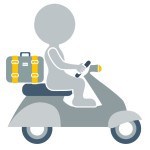 I'll be participating on the panel alongside Opéra de Montréal Director of Sales and Marketing, Guillaume Thérien and moderator Ceci Dadisman, Palm Beach Opera's Director of Marketing & PR. Here's what you can expect via the official session description.
Your website is not only the first impression you give to prospective patrons, but also an important part of any marketing initiative. How do you create an engaging experience that not only educates and inspires but also maximizes conversions? Examine recent website redesigns that have had positive results and data on best practices. Learn tools and tactics to use on your organization's website that to make it more successful and engaging.
In addition to the panel on Sunday 11/10/13 from 1:45pm – 3:15pm PST, I'm honored to serve once again as a web expert for the conference's One-To-One Coaching sessions on Sunday, 11/10/13. My session is titled Leave Lame Websites Behind Once And For All and according to the conference organizers, advance sign-up for the 20 minute sessions will available at some point this month.
If you're attending the conference please be in touch to say hello, talk shop, or schedule a time to talk about The Venture Platform or a consulting project. For any group interested in becoming a Venture user, be sure to ask about a special incentive just for those attending NAMPC.
I'll be tweeting throughout the conference using both @VentureTweets @ Adaptistration plus you can reach out via cell or text at 708-990-0408 so feel free to follow along and join in the discussion. The conference hashtag is #NAMPC and you can follow the session via #WinningWebsites.
Have you completed Adaptistration's 2013 Audience Segmentation Survey? If not, you're missing out on the opportunity to shape this blog's future! 
Complete the brief survey today
.