Although a Terms of Service and Privacy Policy (TOS) may be as interesting to write as toothpick instructions, that doesn't mean you can skip it. In fact, they are among the most important bits of content for your entire website; add to that, most analytics providers (such as Google Analytics) require users to maintain a TOS in order to use their services.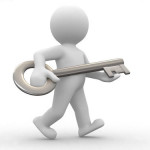 For larger budget groups and those who enjoy pro bono legal services, generating TOS content that protects the organization and provides the site visitor with the proper degree of disclosure, creating TOS content is not a difficult task.
But what about everyone else?
Let's see if we can take some of that pressure off with a few resources to help you create a TOS:
[ilink url="http://www.bennadel.com/coldfusion/privacy-policy-generator.htm/ "]Free: Ben Nadel's Privacy Policy / Terms of Service Generator. Super easy and simple to use, but very basic.[/ilink]
[ilink url="http://termsfeed.com"]Free (but loads of upsell hoops to jump through): Termsfeed.com; create separate versions for Privacy Policy, Terms and Conditions, Terms of Service, and Terms of Use notices.[/ilink]
[ilink url="https://www.iubenda.com/en/privacy-policy-generator/"]Free (but requires registration and plenty of upsell): Ubenda's privacy policy generator is very thorough but will take time to complete.[/ilink]
[ilink url="http://www.generateprivacypolicy.com/"]Free (but requires email validation based registration): generateprivacypolicy.com is comprehensive and makes the final copy available after you've created and validated an account.[/ilink]
[ilink url="http://www.termsofservicegenerator.com/"]Fee based: termsofservicegenerator.com does provide a good final product but my experience has been that it isn't that much better than most of the free options.[/ilink]
To be clear, the best option is have a document crafted by a legal professional that specializes in that area of law and practices in your state of incorporation but in the end, something is better than nothing and what you really want to avoid is:
copying someone else's TOS and substituting your name.
stick your head in the sand, pretend it doesn't matter, and not have one.
make one but don't include a link at your site (a good location is a static footer link next to your copyright notice).