Christmas may be over but that doesn't mean you shouldn't be thinking about what your group should do for the 2014/15 holiday season. To that end, do yourself a favor and take a look at A Christmas Carol: The Concert, which is currently airing on Public Broadcasting System (PBS). A production of WTTW in Chicago, the show features music composed and arranged by Bob Christianson with lyrics & book adaptation by Alisa Hauser.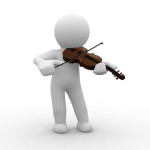 In addition to the national air time on PBS (check your local listings to see if it is scheduled in your area), you can watch the entire production online through 12/30/2013 and the Baltimore Symphony Orchestra performed a live version on 12/16/13 and 12/17/13.
In full disclosure mode, the PBS/ WTTW production featured Inside The Arts author (and my wife) Holly Mulcahy as concertmaster and soloist but even though they recorded the program in the Chicago area back in May, I didn't watch the production until it was broadcast live here in Chicago last week. It is a genuinely terrific program with excellent music and production values. I receive no recompense from the show producers for recommending the program, which I wholeheartedly do.
Simply put, it's enjoyable to watch and an excellent program that isn't something just for big budget ensembles.
A Christmas Carol: The Concert was directed for stage by David Kersnar, conducted by Amy Duran, produced for television by Scott Silberstein and directed/edited by Matt Hoffman; both from HMS Media (Under The Streetlamp & Messiah Rocks).
The official website has technical specs etc. along with promo material and the official PBS full length video is below (but I suspect it will be deactivated after 12/30/13). For whatever reason, the full length video begins with the 0:20 promo but don't let that fool you, the rest of the program begins immediately thereafter.