A colleague of mine posted a picture of a frozen rat on a Chicago city sidewalk via his Facebook wall yesterday with the caption "Even the rats are suffering, folks. Even the rats. #PolarVortex" and on the same day, one of my clients in Florida sent an email noting that there was a 93 degree difference between her temperature and Chicago, 123 degrees if you factor in the wind chill. And they aren't just Whistlin' Dixie, the global warming induced record low temps have had a profound impact on Chicago arts org attendance levels and so goes the same for other areas impacted by the shifting Polar Vortex.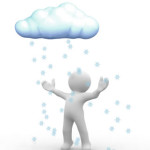 Well prepared arts groups positioned in northern states have always maintained a certain degree of wiggle room when it comes to events and inclement winter weather in that they can expect a certain percentage of cancellations thanks to snow and ice. But what happens if extremes such as the current bout of weather become the norm for the next few years; do you cut back on next season's winter schedule or risk absorbing even larger losses in lost earned income?
It's one thing to have emergency plans in place but something like the recent changes in weather patterns that carry the potential for increased risk over lost earned income over the next few seasons throw one more item on top of the ample pile of reasons behind the need for expanding contingency funds. Simply put, you don't want to end up as the arts org equivalent of a frozen rat on the sidewalk.