The 04/28/2014 edition of Deutsche Welle published an article featuring an interview with Metropolitan Opera (Met) General Manager, Peter Gelb. The interview was conducted by Gero Schliess and although not terribly long, it turns up the fire on an already heated labor dispute.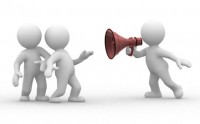 Gelb's key talking points include:
The need for permanent cuts isn't due to executive mismanagement.
The failure to meet revenue goals is due to a "cultural and social rejection of opera as an art form."
The Met's current donors are "suffering" from giving too much for too long.
Union employees have overly "generous" benefit programs; in particular, pensions. On this point, it is difficult to miss the fact that Gelb's go-to examples on these points favor American Guild of Musical Artists (AGMA) represented chorus members over the other unionized employees.
There are a few bits of peculiarity in the piece, the source of which may or may not be something of a lost in translation issue; one of which was when Gelb was asked to describe the Met's financial challenges, the article quotes him giving what comes across as inconsistent references.
Two-thirds of [the Met's annual operating] costs – $200 million – are being spent on union labor and visiting artists as well. So, two-thirds of our budget are going to unions through wages and social benefits.
In the first sentence, union employees and visiting artists are referenced as separate expenses contributing to the two-third ratio (yes, we're going to overlook the wildly nebulous nature of the latter term), but in the following sentence it appears that only the union employees comprise the respective operating expenses.
One element missing from Gelb's talking points that usually turn up during concessionary bargaining is the notion of shared sacrifice, but in this article, it appears that only the union employees are meant to absorb concessions.  Given the position that the overall need for concessions is due to what Gelb defines as an outside force, it is difficult to see where this may not become a problematic sticking point in the near future. It will be particularly interesting to see if that point gathers any additional traction in the coming weeks.