Normally, organizations and individuals don't want to begin receiving visitors at their new site until after all the t's are crossed and i's dotted and who can blame them? There are all sorts of concerns over branding and image projection, etc., etc., etc. and yes, those are all genuine concerns but imagine how much you could learn and just how much fun it would be to watch a site being developed in real time.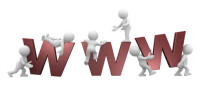 And from the organization/artist perspective, imagine what might be gained by letting go of those conventional apprehensions.
To that end, artist, pianist, and national media personality Christopher O'Riley has been hard at work building a new personal website from the ground up and it has been a pleasure to work as the developer and have Venture serve as the publishing platform. The development URL (the one most folks do everything they can to keep hidden) is open for all to see; in fact, he's been posting links to bits and pieces via his Facebook profiles for the past week.
In its current form, you'll see plenty of content holes, unfinished styling, CSS waiting to be finished, an incomplete navigation architecture, placeholder content, more than a few client-developer related notes throughout the site, and all of the other things that people typically want to throw a digital tarp over until the big reveal.
But that's where things get really interesting because you'll see progress each and every day until the official launch. Some days will be a flurry of activity while others will have more going on under the hood but there will never be a shortage of things to notice. And I wouldn't be able to sleep at night without pointing out that the e-commerce store component may seem functional but it will not yet process transactions; in short, you can't buy anything there yet. But that will change in short order and once it does, it is going to be a genuinely cool shopping experience.
As such, you're invited to visit O'Riley's development site 24/7, it's like witnessing personality come to life via a digital medium.