The 11/29/2013 edition of BBC News published an article by Alison Feeney-Hart where she interviewed conductor Esa-Pekka Salonen and asked about his tips for becoming a great conductor. By and large, Salonen's advice is superb; it's not only grounded but downright populist when compared to the traditional Maestro Mystique. Having said that, there was one bit that pestered at me to the point of writing this post.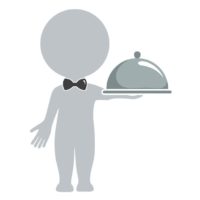 First and foremost, go read the source article before continuing with the rest of this post; it is not very long and gets right to the point. Likewise, all of the points are genuinely excellent so that's just an added bonus (I'm particularly fond of #3, #9, and #10).
I'll wait, no worries.
Welcome Back
Could you tell which point inspired this post? Hint: it comes after #3 and before #5.
4. Accept that you are just a waiter


The composer is the chef and conductors are the waiters. Both are totally honourable professions but we have to accept that if I conduct a piece by Beethoven, I'm just a waiter. I might be head waiter, but waiter none the less and I am there to make sure the food comes to the table on time and intact.
As gratifying as it is that Salonen purports a refreshingly unpretentious perspective on his role as conductor, it fails to stick the landing thanks to the conductor/composer vs. waiter/chef analogy.
As much as some would prefer, you simply can't deny the profound gap in compensation and influence between music directors and composers, ensemble musicians, and with the exception of CEOs, everyone in the admin office.
How many waiters, even head waiters, earn considerably more than the head chef? Similarly, how many get to decide the menu or occupy a distinct gatekeeper position on which of the chef's new creations see the light of day?
To be clear, this isn't a discussion about whether or not conductors deserve their current levels of compensation, rather, the need to stop pretending that it doesn't exist.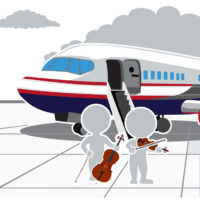 Perhaps a more effective option than the chef/waiter example would be that the conductor is the pilot in charge of delivering passengers to wonderful musical destinations.
Granted, this option isn't without faults (ironically, pilots are union employees and conductors are decidedly not), but it more accurately represents a conductor's position and influence while simultaneously acknowledging that the destination, i.e. the composer's work, is what it is all about.
Is This All Getting Blown Out Of Proportion?
In order to make sure I'm not being overly sensitive on this topic, I contacted several composer colleagues and asked what s/he thought of #4. All but a handful picked up on the same items.
Perhaps unsurprisingly, none of them wanted to be quoted by name for this article and in most cases, I wouldn't use anonymously sourced content but I do believe this situation rises to the level of being an exception to the rule.
"I get what he's saying but I can't avoid getting a bad feeling every time I think conductors at his level will earn more in one year than I will my entire career writing music."
"I can't count the number of hours I've spent sending scores to conductors and networking for the slightest edge on being among the tiniest fraction of composers that get to hear their work performed by a professional orchestra."
"Next to composers, I guess being a conductor is just about the most difficult thing to succeed at in this business but I'm not sure that justifies how much more those waiters gets paid over this chef once he or she can snatch that brass ring."
What Do You Think?
I'm curious to know what you think. Is this being blown out of proportion? Is there such a thing as taking humility too far? Does the reality that conductors earn so much more than other stakeholders preclude humility? Are we missing something that would help put all of this in a clearer perspective?
I'm very curious to know what you think; likewise, I'm equally keen to know what you think might be a more suitable comparison conductors could consider when thinking about and speaking on this point.
As such, take a moment to send in a comment.