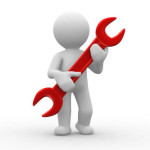 It's been more than a year since the last reminder which means it is high time to remind everyone to update your passwords, especially ones related to work at your arts org. Hacker activity hasn't subsided since a big spike at the beginning of the calendar year and one of the most useful steps in shutting down hackers before they get anywhere is using a strong password. Yes, strong passwords are a pain in the ass to remember and it is so much easier to pick something easy and burry your head in the sand, but you aren't doing yourself any favors.
We've covered this topic in the past via a pair of useful articles and the advice there is entirely relevant, especially the material related to password managers.
Read. Both. Articles.
The last thing anyone wants is to be the person responsible for getting your entire office network blacklisted by major hosts and ISPs because they discovered one or more computers in your office were compromised by a brute-force attack thanks to your "MahlerRox2!" password.
[ilink url="https://adaptistration.com/blog/2013/01/25/eliminate-password-fail-time-suck-once-and-for-all/"]Password management made easy.[/ilink]
[ilink url="https://adaptistration.com/blog/2012/06/04/change-your-password-already/"]How to create a strong password.[/ilink]