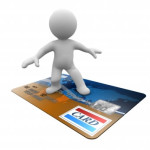 During the 2013 year-end donation push, a handful of my Venture Platform users started to experiment with creating a single page donation process; which is where the donor selects the amount, giving options, and enters billing and credit card info all from a single page. Each group experienced worthwhile increases in online giving and what was particularly interesting is all but one already maintained an online donation function provided by their respective box office solution.
Nonetheless, those solutions either required donors to create user accounts before completing a donation and/or go through several additional pages before completing their online gift. Yet the promise of increased donations by way of a more user friendly process had enough value to convince the organizations to pursue an alternate solution; to that end, here is what you need to consider when walking down that same path.
Capacity
In order to process online transactions you'll need the following:
An IMA (Internet Merchant Account) from your bank. Contact your bank for details and fees.
A payment gateway such as Authorize.net or PayPal Pro, although there are dozens more out there in addition to those two. It's worth noting here that options like PayPal Standard do allow your donors to use credit cards but it will transfer the donor out of your site to complete the checkout process. Also worth noting is you can expect a payment gateway to charge a percentage of each transaction and/or a monthly user fee as well as a potential one time only setup fee.
A SSL (Secure Socket Layer) certificate, which encrypts the data moving from your donation page to the payment gateway merchant. SSL certificates must be renewed on an annual basis and cost anywhere from $50 /year on up depending on the type of certificate you need. For reference all of our users do just fine with the $50/year certificate.
A PCI (Payment Cards Industry) compliant web host; this is another crucial component of overall data security.
An e-commerce solution capable of producing a single page checkout experience with user defined donation capability; i.e. allow donors to select how much they want to donate. Ideally, one that works equally well on all devices without the need for a separate platform specific app.
You can expect a varying degree of one time only and annual license type fees for each step in this process; how much depends on the respective providers involved. Having said that, don't let any of this scare you away; in fact, we've bundled most of the process up into flat fee package that includes items three through five. Most of our users already maintain items one and two so the entire process from start to finish can take as little as 48 hours, even for donation pages with multiple variables such as gathering data for memorial or tribute gifts, employer matching, etc.
Consequently, this list will give you some framework to work with when contacting your web and/or payment gateway providers.
Migrating Transaction Records To Your CRM
Sure, it's great to see contributed revenue increase but no one likes extra paperwork, which is what you'll end up with if you collect donations via one system but want to get the related data into your Customer Relationship Management database (details). Short of connecting the systems (which is not always an option), the most straightforward solution is to import the new donor data via some sort of file import, most likely a CSV file import.
To make things as easy as exporting then importing a csv file, you'll need to do just a bit of homework:
Verify that you can import records into your CRM via something like a CSV file.
Verify whether or not that file needs to have column headers prepared in advance of the import or if you can match them up afterward.
Verify that that your e-commerce solution and/or payment gateway is capable of generating reports that satisfy the CRM requirements.
Absolute worst case scenario here is you have to manually plug the donation data into your CRM.
Tip: check out zapier.com, a provider that specializes in syncing data between different platforms. Their list of CRM apps is impressive, not to and growing, but the downside is some of the more common CRMs used within the nonprofit performing arts field aren't included (which might clue you in a bit on how out of touch some of those providers are). But you will find solutions such as Salesforce, Capsule, SugarCRM, and more in their CRM app list.
Get Creative And Automate
Most of our Venture users take advance of MailChimp or a similar email marketing service and with just a little bit of added cost, our e-commerce solution can automatically push donor transactions to one or more mail lists and/or groups based on any line item condition in the donation form. Do you want donors that gave $500 or more go to List A/Group B but if they are also from Zip Code Y they get added to List Z? No problem.
Ideally, your e-commerce solution and web provider will provide similar flexibility; if so, you'll be in great shape down the road when it comes to creating targeted development campaign emails or any other creative use of the data.
In the end, the thing to keep in mind is don't let current solutions limit your potential; if you have an idea about how you want your donation page to function or what happens to the data afterward, ask your provider. Likewise, don't assume you have zero options if your existing box office provider's donation solution isn't exactly what you need to maximize online giving.
Questions? Ask away.