James (Jim) Erb, founder of the Richmond Symphony Chorus and well known for choral arrangements, passed away on 11/11/14 at the age of 88. I consider myself fortunate to have crossed his path and enjoy some one on one time with him over the course of a several years when my wife, Chattanooga Symphony and Opera concertmaster Holly Mulcahy, was a member of the Richmond Symphony Orchestra.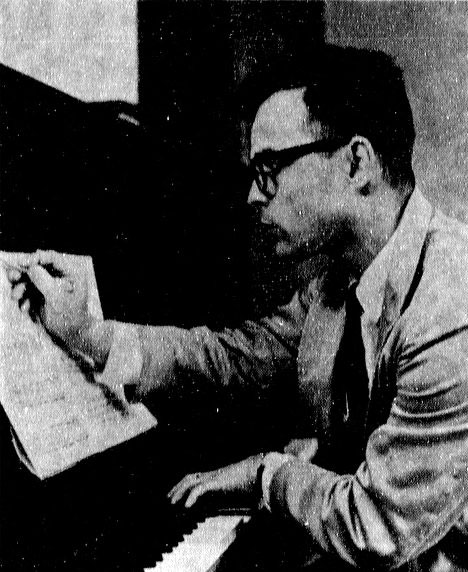 There have been numerous tributes to Jim, many of which are linked below, so there's no need to cover the same territory others have done so eloquently; instead, I want to share a conversation with Jim by his fireplace talking about his time in WW II as a conscientious objector where he served as an Army medic in the Pacific Theatre.
He talked about his period in Honolulu before shipping out into harm's way listening to as many records he could get his hands on that featured music from Japanese composers. Jim felt it was imperative that he learned about the Japanese through their music and on more than few occasions, had to push back against displeased fellow servicemen that didn't take kindly to him listening to music from the "enemy."
He was 18 then and already showed an enormous depth of character that most fail to achieve after decades and it was this distinctive nature that let him become the right person, in the right place, at the right time to help establish and cultivate a fertile classical music environment for the Mid-Atlantic region.
Upon learning about Jim's death, Holly posted her own memories of Jim and Ruth Erb at her Facebook page.
My fondest memories as a member of the Richmond Symphony were of Jim Erb and his family. During my first couple years I rented a room with the Erbs and they took me in as one of their family members. Winters would be warmed with an old recording of a symphonic great, a fire every night, with wood Jim chopped himself earlier in the day.

Jim and I bonded as fellow musicians and friends as we were both from Colorado, both huge fans of Bugs Bunny, and both fans of a good debate about music (I usually lost). Upon hearing I'd never heard of the great Beethoven work, Missa Solemnis, Jim went crazy, yelling "WHAT?! This cannot be!!!" and shoved 3 different CDs at me to go listen to immediately.

His passion for continual learning about and experiencing music was contagious for me. His drive to never stop writing about, performing, and listening was a good role model for all of us. I'm grateful to have called him a friend, mentor, and example. But like most musicians that pass, Jim will live on through the music he taught, wrote, and shared. May he rest in peace and may his love of music continue to be passed on and on…
The Richmond Symphony Chorus website published a tribute page to Jim as well as organizing a memorial service on 12/20/2014 to honor his memory and numerous contributions to the field. Current Richmond Symphony Chorus Director, Erin Freeman, wrote these touching words shortly after the news of his passing.
"Jim Erb had a profound impact on my life, the lives of the singers with whom he worked, and the lives of those around the world who sang his compositions. I first knew of him in high school, when I, like thousands across the country, sang his "Shenandoah." The honesty of the piece combined with the demands it required reflect Jim's approach to music: sing it correctly, sing it with beauty, and sing it with excellence. One of the final pieces he prepared with the Richmond Symphony Chorus was the Brahms Requiem. I distinctly remember sitting in the audience, poised to take over the legacy that he created, in awe and fear of the task at hand. Since then, however, I have learned that Jim, through his attention to detail, determination, and musical integrity, set up his legacy in such a way that, as the final movement of the Brahms' says: he may now rest from his labors, as his work will follow after him."
Richmond Symphony Orchestra violinist Timothy Judd posted a tribute to Jim at his blog, The Listener's Club, and you can find his official obituary in the 11/12/2014 edition of the Richmond Times Dispatch.
And to understand how far Jim's reach extended beyond Virginia, UK based author Norm Lebrecht published an entry about his passing at slippedisc.com on 11/17/2014.