In case you missed it, there was a fascinating discussion going on in the comment thread of the Five Articles People Should Stop Writing post that evolved into the topic of whether or not contemporary music can attract audiences and sell tickets. Within the thread, I hinted at an article in works on that very topic at Neo Classical and on 3/30/2015 that article went live.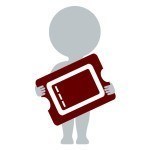 The post actually serves as a final installment in a series of articles that chronicled a performance of Jennifer Higdon's Violin Concerto by Neo Classical's author, Chattanooga Symphony & Opera (CSO) concertmaster Holly Mulcahy, and it dives into greater detail surrounding the behind the scenes decision making that goes into the potentially slippery slope that is programming contemporary music.
The article does a good job at showing how the CSO addressed the common problems and developed an outlook and plan to help mitigate potential pitfalls. Moreover, Mulcahy details the extra measures she adopted on her own initiative that ultimately led to the concert selling better than any of the CSO's other masterworks concerts (to-date) for the orchestra's 2014/15 season.
Our normal Masterworks concerts typically pull in people from about five states. For the Higdon concert, we more than doubled that figure and found that people flew in from as far as California, Connecticut, and Michigan.

Age demographic and diversity was definitely much more varied than normal. Based on my interaction before and after the concert, people were drawn to the excitement of a newer work and the added excitement of the composer's presence filled our hall on March 12th.
In the meantime, I'm curious to know what you think and if you're an arts manager; what are some of your notable experiences with programming contemporary music (both good and bad)?