The end of the 2013-14 season was a turbulent time for the San Diego Opera (SDO); its ex-General Director, Ian Campbell, declared that the city could no longer support his vision of grand opera and as a result, the organization should be shuttered. An influential faction with the SDO board decided to go along with the plan but things went sour for Campbell's plan and the SDO is alive and well thanks to the positive influence of a coalition of stakeholders and supporters. But it seems that Campbell managed to get one final jab in the form of a hefty severance payment for his final year of service.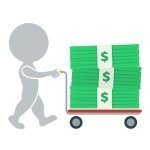 According to an article by James Chute in the 5/1/2015 edition of the San Diego Union-Tribune, the SDO remunerated Campbell to the cumulative tune of $778,155. Campbell's ex-wife and former SDO development director received a total of $534,430. Together, they managed to walk away with $1,312,585.
According to the federal forms, the company provided Ian Campbell with a lump-sum payment of $276,000. The forms also revealed that Campbell earned a base compensation of $479,500, plus $22,655 in "nontaxable benefits" during the 2013 calendar year.

Ann Spira Campbell, who was primarily responsible for fundraising, received a lump sum of $200,000, plus a payout for accrued vacation time of $17,823. Her 2013 salary was $304,470, plus $12,137 in benefits.
Multiple reports assert that the Campbell's payment were covered by an anonymous donor with instructions that the funds be used for that explicit purpose so perhaps the moral of the story is it's good to have friends in high places (with a few spare golden parachutes laying around). There have been no reports on whether the donor allocated any funds for non-executive employees who were laid off and/or had their positions eliminated in the wake of Campbell's actions.
In case you missed the drama that unfolded at the time, you can catch up via Adaptistration's SDO article archive.