There are plenty of reasons to love Vu Le's Nonprofit with Balls blog and one of the most compelling is his ability to speak the pain truth and help adjust perspective away from the cascade of chatter that floods our field; so much so, it ends up hijacking strategic thinking. Case in point, in Le's post from 5/18/15, he cries foul on some of the prevailing sentiments purported by Foundations and large donors on the topic of sustainability.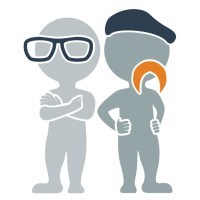 In a nutshell, Le reminds his readers that ultimately, the quality of whatever your nonprofit produces (service, experience, etc.) is what defines your patron relationships.
When Charity Navigator, Guidestar, and the BBB Wise Giving Alliance got together in 2013 and wrote a letter denouncing the Overhead Myth, I was ecstatic. The Overhead Myth is one of the dumbest and most damaging concepts ever inflicted on nonprofits and the communities we serve. Imagine if we go on Yelp to find help deciding which restaurants to frequent, and all the reviews are like this:

"We were disgusted that the Happy Chicken spends over 30 percent of their revenues on rent, water, insurance, and accounting software. Go a block down the street and eat at the Flying Lemur instead; the owner assures me she only spends 10 percent on things like electricity." 

That's what the Overhead Myth is like, and since it is down, we all need to kick it so that it never gets back up to terrorize us again. There is still a lot of people in society we need to educate regarding this issue.
Yes. Yes we do need to kick it. I suggest changing into something with steel tipped toes before doing so.
Le continues by recommending nonprofits adopt a proactive position to help end what he defines as the #SustainabilityMyth.
The quest for this elusive thing called "sustainability" has become as damaging as the obsession with "overhead." It divests funders from their role as equal partners, and forces nonprofits to waste time justifying our work instead of actually doing it. It leads to small one-year grants and grants "no more than 10% of your org budget" or something, all of which just turn nonprofits into exhausted hummingbirds who spend much of our time and energy flitting from funder to funder.
He concludes by offering specific suggestions for nonprofits, donors, and funders; all of which are entirely applicable to the nonprofit performing arts field. I would even recommend that board and administrative executives go an additional step by focusing efforts toward service organizations that may be either complicit or active supporters of the #SustainabilityMyth.
And since the League of American Orchestras conference is coming up next week, it is the ideal setting for these executives to introduce the discussion within the closed door confines of constituency meetings.
If your organization is sending any executives and/or board members, don't be shy about reaching out to ask if there are any plans to advocate ending the #SustainabilityMyth.