Not long ago, I began offering Venture Platform users a reservation function via our e-commerce platform that also serves as an ideal tool for arts orgs to use for automating much of the audition scheduling process (including notifications, confirmations, and even changes). Even though it's designed as an e-commerce function, it can be used in a non-transactional way or even gathering payment info but not processing a charge, which is handy for a group to shed itself of old-school deposit check practices.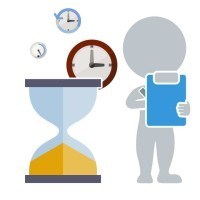 Converting to an online system that allows audition candidates to automatically reserve everything from a specific day/time to one of several available slots within a prescribed range not to mention handling after-the-fact changes is something I've pitched to orchestras for more than a decade but it never ceases to amaze at how much resistance there is to the idea.
Nonetheless, other performing arts sectors, such as opera and theater organizations, embraced the idea a number of years ago and why orchestras would rather spend 12 hours doing something that would otherwise consume one is a mystery.
Although each orchestra's process may have unique elements, most follow this multi-month procedure:
Applicants send required material for review.
Operations department correlates and prepares material for review by audition committee.
Audition committee selects applicants to invite.
Operations department contacts selected applicants with audition details and steps to confirm; they may or may not assign an audition day at this stage.
Applicants electing to attend remit an actual paper check to serve as a deposit and will be returned if they show up at the audition. This is where most experienced audition candidates submit requests for specific day/times.
Operations department processes and secures paper check deposits and begin assigning candidates to available slots per the audition schedule; special requests may or may not be honored.
Candidates are notified of assigned day/time.
Wackiness ensues within the operations department in the wake of a steady stream of scheduling change requests.
Even once they've been notified, it isn't unusual for candidates to wait several weeks before receiving a firm confirmation on which day/time they've been assigned. The entire ordeal might be considered charming, not unlike telegrams and pneumatic tubes, if it weren't so profoundly frustrating and wasteful.
Notwithstanding traditional reticence, I'm curious to know what readers think; does this seem like an efficient process that benefits both the institution and the audition candidate? Can you think of any reasons why you wouldn't support moving as many of these steps toward an automated online process? Take a moment to leave a comment, start a Facebook conversation, or send a tweet to @Adaptistration.