Among the wave of trends following the economic downturn, moving performance events outside traditional venues is among the more popular. Groups are practically tripping over themselves to set up performances in coffee shops, bars, shopping malls, street corners, mass transit stations, and schools. You'll even find groups using Semi Trucks, barges, and gargantuan circus tents but in the rush to get out of the concert hall, it is becoming increasingly common for groups to get hoisted by their own petard thanks to selecting locations with undeniably awful acoustics.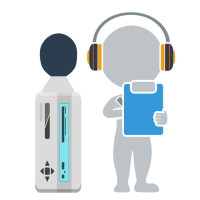 Case in point, the 8/19/2015 edition of The Chicago Reader published an article by Deanna Isaacs about a Lyric Opera of Chicago outreach performance at Chicago's Lincoln Park Zoo' Cafe Brauer.
I think Matthew Aucoin has written a lovely children's opera.

I can't be sure because Lyric Opera's Second Nature, which had its premier performance this morning at Lincoln Park Zoo's Cafe Brauer, was seriously undermined by distorting acoustics in the domed, sky-lit second-floor event space where it was held.

A majority of Aucoin's English lyrics were rendered incomprehensible, while voices in the upper register turned into sonic assaults.
Cafe Brauer is a genuinely lovely building and based on those visual aesthetics, it is easy to see why it would come across as an appealing location for an off-site performance but it seems that the event was developed without enough on-site research to determine if the acoustics were capable of projecting a positive experience.
It's discouraging to see an otherwise productive idea fall short, or even fail, due to overlooking the all-important element of acoustics. To that end, groups need to be ready to set aside necessary resources for a sort of acoustics reconnaissance mission when considering performance events outside the primary concert hall.
In the end, it is easy to get sucked into a discussion about the merits of performing outside the primary venue but the first, and most important question, to be answered is whether or not the proposed venue has the necessary acoustics.
In order to help groups avoid this bear trap, I've enlisted the help of Christopher Blair, Chief Scientist and Tuning Conductor at Akustiks. Blair is an expert in the field of acoustics and you can expect a guest author post from him in the near future detailing how groups can go about evaluating the acoustics of off-site performance locations.
In the meantime, you can catch up on Blair's existing guest author posts here at Adaptistration that touch on a variety of acoustics and programming related topics.
Stay tuned…