There's less than one month to get ready for the 2015 NAMP Conference in Salt Lake City, Utah and if you haven't registered and made your travel and lodging arrangements, you are going to want to get that monkey off your back sooner than later.
As mentioned back in May, I'll be leading a session on Sunday, November 8, 9:00am to 10:15am MT titled Click. Click. Done. Developing Your Google Analytics Skills along with Google Analytics pros Ceci Dadisman and Marc van Bree. It's going to be a very hands-on type of session where you'll be able to put lessons into motion in real time and we're also designing the session so that it will be of equal value to arts marketing pros of all levels. So it doesn't matter if you're a Baby Boomer, Gen-Xer, or Millennial, everyone will walk away with tools you can put to use for the forces of good!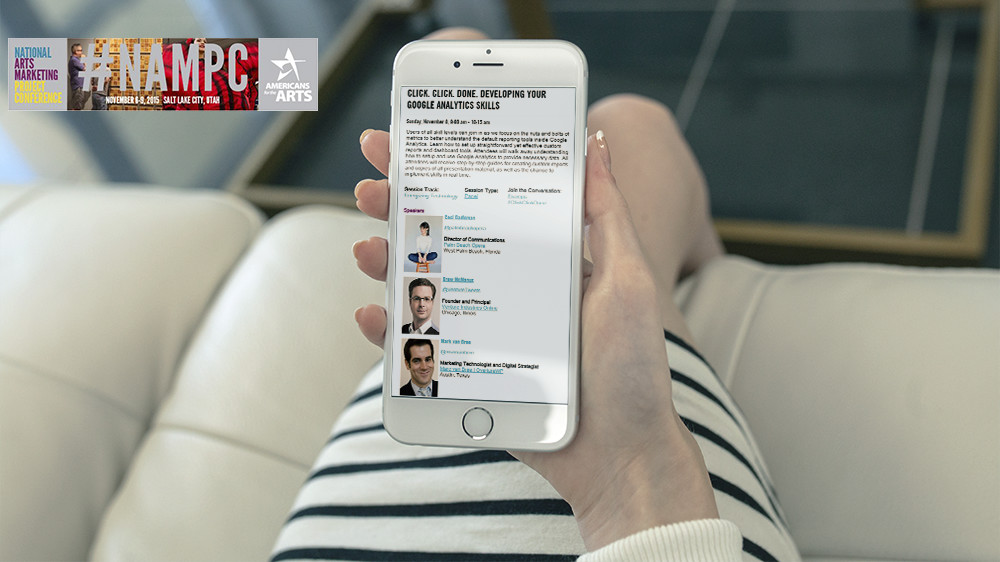 But Wait, There's More…
In addition to the Click. Click. Done. session, I'll also be participating in the conference's One-To-One coaching sessions on Sunday, November 8 from 3:30pm to 5:15pm MT. Titled Inking The Right Deal: demystifying web, CRM, ticketing, and email marketing RFPs, you can sign up for a private 20 minute coaching session online if you're already registered or wait to do so at the conference.
Having said that, I can say from experience that whenever I've participated as a coach at prior conferences, my available slots tend to be among the first to fill up so if you're already registered, I recommend reserving your time sooner than later via NAMPC's online sign up form.