In the course of preparing for the #NAMPC Click Click Done session, my fellow panelists and I came up with the idea of create a dedicated microsite especially for the session. Dubbed SessionSYNC, it was inspired in large part by The Walking Dead StorySYNC program in that is designed to be accessed primarily through tablets and Smartphones, but unlike the interactive style content for that purpose (such as polls and quizzes), our version was crafted to solve a few logistical and content related problems that typically crop up during these sorts of conference sessions.
Nomenclature: when tackling a tech based topic like Google Analytics, one of the real challenges is designing a session that is useful for attendees at all levels. The panel did a fantastic job with that via the content and we determined that the SessionSYNC site was an excellent vehicle for addressing some of the holes that content or presentation simply can't solve, such as providing a handy glossary that attendees could use to reference some of the more straightforward terms being used without requiring the respective speakers to interject each and every one of the terms into the presentation portion, thereby slowing down the momentum.
What to expect: although session descriptions go a long way,
providing a firm agenda let attendees know the order of what was coming. In turn, this makes it easier to think ahead and prepare questions.
How to prep: another tech topic related item, this section let users know what they needed to do to get the most out of the session. Some items were straightforward such as making sure they were logged in via Wi-Fi, logged into their Google Analytics account, and have multiple tabs open and ready along with being ready to copy/paste content.
A copy of the presentation slides: although conventional wisdom dictates never hand out copies of a presentation before the session begins, Mr. Wisdom apparently never attended a session with a room that is 24′ feet wide by 150′ deep and an 8′ x 4′ presentation screen set two feet off the ground. And since you never know what to expect until you get there, providing access to slides via the SessionSYNC site helped reduce attendee frustrations that might stem from this issue; I certainly know the folks in the back of the room appreciated it.
The Director's Cut: who doesn't love bonus content, right?!? Anyone who's ever had to prepare a presentation knows that some of the terrific content you've prepared ends up on the cutting room floor so in the course of preparing our slides, my fellow panelists and I first put together what we felt was the most complete version possible (along with copious slide notes) and saved that copy. We then went about timing our respective sections and editing for length as needed in order to come up with the session version of the presentation.
Resources: although it isn't unusual to provide a resource list, nothing is more frustrating than having what is primarily a link filled document in print format (or a non-hyperlinked online version). As such, we made sure to provide a resources section that served up each item as a clickable link.
Presenters: we put together a nice touch screen enhanced version with links to social media accounts for each of the three presenters.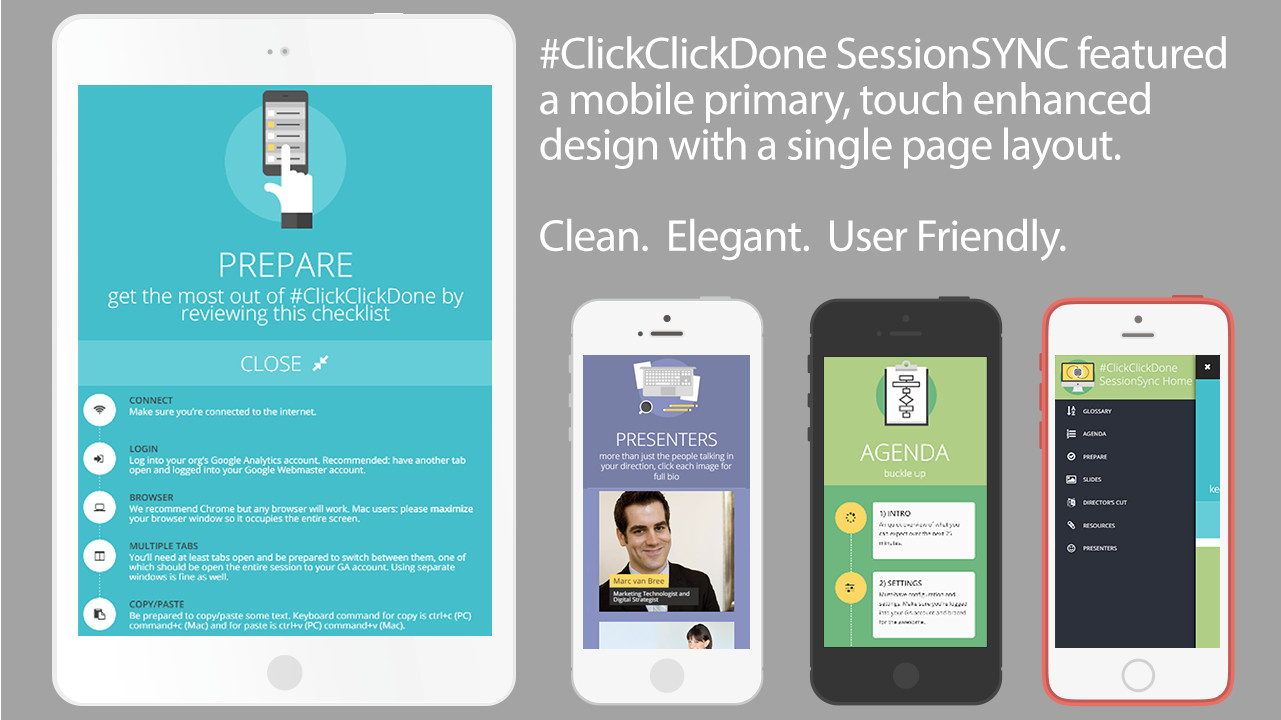 Since most attendees were actively working on the session tutorials via a laptop, having the Session Sync open via their mobile device (or even another laptop browser tab) made it easy to access the content without distracting from what they were there to learn. The touch screen focus was exactly what needed and made it super easy for users to slide around between elements in the single page design but we made sure to add a slide out menu that contained shortcut anchor links to each major section.
All of this meant a user never had to sit and wait for a page load other than the one on the initial site visit. This meant the site wasn't only fast, but downright seamless.
I'm pleased to say it was a big hit and the next time I give a presentation I'm going to see about stepping up my game by designing content and building a site that functions more as a real time companion, like The Walking Dead version that served as inspiration.
All in all, the site was a great deal of fun to design and build; the entire project used resources I had on hand (including the animations) so there were zero out of pocket expenses and the only other resource was simply time. Moreover, since the site was hosted as a subdomain install at ArtsHacker.com, it not only serves as a handy ongoing resource for the existing content, but it can easily be reconfigured for future NAMPC events as needed.
Best of all, you can visit the site directly anytime you wish at nampc.ArtsHacker.com!