On 3/15/2016 I had the pleasure to taking part in a private session for a conducting fellowship program on how conductors should work with an orchestra's marketing team and help activate social media. The session was part of the Chicago Sinfonietta's (CS) Project Inclusion Freeman Conducting Fellowship, which grew out of the organization's existing musician fellowship program.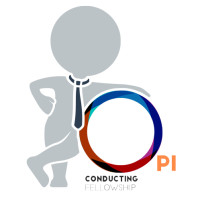 The Sinfonietta is a pioneer in the field in that it was among the first professional orchestras dedicated to modeling and promoting diversity, inclusion, and both racial and cultural equity in the arts through the universal language of symphonic music.
This program is named in memory of their founder and longtime music director, Paul Freeman. Implemented in 2013, the Project Inclusion Conducting Fellowship fosters the development of four to six conductors of diverse backgrounds who are on the verge of professional careers. The fellowship includes:
Opportunities to conduct live ensembles through partnerships with leading Chicago classical music organizations and educational institutions.
Intensive and extensive training, mentoring and conducting activities over a ten-month period.
Coaching of on and off-the-podium topics to develop the 21st century conductor.
Development of basic orchestra management skills, including but not limited to marketing, programming, fundraising and finance.
The conducting fellows also have the opportunity to work closely with CS Music Director Mei-Ann Chen along with other experienced conductors and industry professionals.
That last bit is where this marketing session intersected with the program as fellows were able to take part in a working lunch to tackle this subject. In addition to my participation, the full panel included CS Marketing Director Jenna Deidel and Grant Park Music Festival Director of Marketing and Media Relations Jill Hurwitz while CS Executive Director Jim Hirsch moderated the discussion.
The current group of fellows include Kalena Bovell, Roger Kalia, Deanna Tham along with two auditing members Eli Chen and Philip Espe.
Although the discussion unfolded in an environment of transparency (which is just a fancy phrase for straight talk), I wanted to share with readers some of the key points each of the three panelists wanted the participants to walk away with.
To that end, here are the top three points each panelist thought every conductor should be mindful of when working with an institution's marketing professionals:
Jenna Deidel
The program is the product, and the product is everything. Programming choices speak volumes about the mission and brand of the orchestra and can make your marketing team's job easy or next to impossible. Finding the right balance between accessible (read: big selling) pieces and riskier work/ideas you are personally excited about goes a long way in giving your marketing team a concert they can sell.
Find a narrative and make it personal. Music Directors can help their marketing team by creating programs that lend themselves to a narrative and, more importantly, a personal connection that audiences can make. When sharing programming information with the marketing team, consider the through lines and context you can point out that might inspire them to be able to tease out those personal and emotional appeals for their communication.
Communication is key! Audience members will arrive to their seats with expectations and opinions created by the marketing and communications team that can color their experience before you even take the podium. It's important to equip the marketing team with program information and themes early on, but then also to keep lines of communication open as the concert evolves over time through rehearsals, conversations with guest artists, etc. Great marketing happens when the communication and product align to meet or exceed expectations…the opposite is true too.
Jill Hurwitz
The Music Director needs to be the Marketing Director's ally, able to speak about the season clearly to media, donors and potential ticket-buyers. It is up to the Marketing team to prepare the Music Director before interviews and events to ensure that the messaging is on point.
The Music Director needs to share his or her vision on why certain pieces have been included in a specific program. That backstory can help the marketing team develop a sales campaign and strategy for the program, identifying niche audiences and press opportunities, as appropriate.
Last week's session was a great opportunity for the Project Inclusion fellows to learn more about the industry behind the scenes. What a great program that offers hands-on experience with sessions on marketing and press, in addition to their work as performers and conductors.
Drew McManus
Develop a strong personal brand and explore how it best integrates into an organization's marketing strategy. This includes building a loyal social media following along with an email marketing list. Not only will this help improve marketing performance at an orchestra where you hold a regular position but it will make you a far more attractive candidate for guest conducting opportunities. Simply put, if an institution can't decide between hiring you and a

competitor


colleague, bringing 3,500 email subscribers, 5,000 Facebook fans, and 3,000 Twitter followers to the table can tip the scales in your favor in a big hurry (tip: if you maintain demographic and geographic segmentation, that's just icing on the cake).
If you can't describe it, you haven't finished programming it. Before your marketing department can effectively sell tickets, a conductor needs to able to effectively communicate what makes the program engaging. To that end, they should be able to describe the program in long and short form; think of the latter in Twitter size bits. Even better is when a conductor can provide multiple Twitter length pitches geared toward clearly defined ticket buyer types; i.e. core subscribers, infrequent ticket buyers, and newbies.
Learn about the budget allocation process. Not all concerts receive the same amount of money for advertising and conductors that realize which types of events cost more to sell than others will do themselves a favor by incorporating this knowledge into their planning process. Recognizing that some programs include higher risk programming elements that require more money to sell tickets should be balanced by efforts to design other concerts with programming that costs less to sell. Just be sure not to let risk-reward become risk-aversion.
To all of the orchestra marketing pros out there…
If you could offer up no more than three points, what insight would you give these conductor fellows (and to that extent, emerging conductors in general)? Take a moment to leave a note in the comments and be sure to include your name and ensemble.
The last bit is meaningful because one of the items we discussed during the session was context; for instance, considerations for a marketing department with a dozen or more staffers are sometimes different than orchestras with a marketing department of one.