Before we dive too far into this rabbit hole of a topic, we should confirm that the apply-audition-award method that is the typical professional US orchestra process is perhaps best described as the "best bad option available." This isn't a post about reinventing the wheel, rather, it's about looking under a few rocks to shed some transparency on an otherwise murky topic.

For whatever reason, my inbox has been flooded as of late with a small deluge of messages from various stakeholders pointing out problems at one recent audition or another. In each instance, the respective problems are rooted in long standing issues. So when I can across Vu Le's 4/18/2016 post about how the nonprofit field as a whole should be doing a better job at treating job applicants, it seemed like a good sign to address similar issues here.
To that end, here are some points the field should consider for improving transparency and accomplishing what Le defines as "treat[ing] our professionals with respect so they don't run screaming into real estate or other professions (no offense to real estate or other professions)."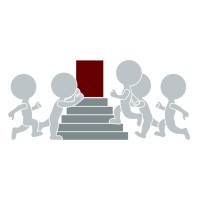 Create A Uniform Application: I have yet to encounter an organization where the audition committee doesn't have a clear idea of exactly the sort of information they want to consider when determining which applicants to invite. Consequently, this should be used to streamline the application process so all incoming material is delivered through the same online, form based user interface. Only ask for what you need, but make sure you genuinely need what you're asking for.
Establish And Publish An Audition Committee Code Of Conduct: Ever since the onset of social media, there seems to be no shortage of audition committee members who seem willfully blind to the unethical nature of releasing any information or opinions about candidates during or following the audition process. In addition to crafting a committee code of conduct, it should be acknowledged in the announcement material and made publicly available to candidates in advance of the audition.


Example: I recall seeing a Facebook post from a musician serving as an audition committee member who, while the audition was underway, wrote "candidates should never play [specific concerto], it's an automatic disqualification in my book and I just booted someone for playing it." But the real kick in the kididdlehopper for the poor audition candidate is this was never listed on the audition's concerto no-fly list even though the work selected fell within the audition's stated "19th century concerto of candidate's choice" threshold. This is what Le appropriately describes as a holier-than-thou attitude; but in this case, the candidate is the one who unknowingly pays the price.

Disclose Invitees Or Internal Candidates: One of larger dirty-little-secrets in the field are auditions where an orchestra knows exactly who they want to hire, but holds an audition anyway. From a professional perspective, there aren't any issues with fast-tracking a musician into a position, especially a leadership chair. At the same time, that organization needs to be respectful of their candidates' time and disclose in the official audition announcement that one or more musicians may be advanced directly to a semi-final or final round. Most orchestra's resist the idea due to a "you never know what may show up and we don't want to discourage anyone" perspective but if that were the case, then all candidates should play on an even playing field.
Disclose Minimum Audition Length Provisions: This is closely related to item #3 where auditions where one or more invited candidates tend to produce impatient committee members. The result is a number of initial round candidates get dismissed after only a few minutes (and in some cases, seconds) of playing. In the end, this is very much a problem with a "you can't have your cake and eat it too" solution. If an orchestra decides to auto-advance musicians; fine, but every candidate prior to those invite rounds deserves a full and uninterrupted audition. Like many items in this list, the guaranteed audition length should be included in official announcements.
Enough With Hidden "Litmus Test" Qualifiers: Time for another dirty-little-secret. Some orchestras have specific criteria they use to determine which candidates to invite that are perhaps best described as being less than subjective. Remember item #2's example? That is a good example of an item that should be sorted out among committee members during the planning stages then included in a list of acceptable repertoire for an audition's concerto portion.
Disclose Screened Audition Status: To screen or not to screen, it's one of many circular debates inside the field. But regardless an orchestra's position, whether or not candidates will be auditioning behind a screen for one or more round should be clearly stated in the audition notice.
Solicit Formal Candidate Feedback: Ask any orchestra what they think about their audition process and most will assert that they are a paragon of integrity and the entire process from start to finish is beyond reproach. Unfortunately, none of them ever bother to ask the actual candidates and until that happens, they may want to hold off on the back-slapping. Fortunately, we covered this very issue back in 2013 where I provided a host of reference material on how to properly design audition feedback surveys right down to recommended questions.
Prompt, Deadline Oriented Communication: This may seem to go without saying, but I run across far too many instances of audition candidates lamenting a lack of prompt communication. One useful trick is if your organization has the ability to create an email auto-responder that acknowledges receipt, include a note asking the candidate to reach out with a follow-up if they don't hear back by a set amount of time. In many cases, spotty communication is the result of a spike in messages combined with an already overworked operations staffer. As a result, letting candidates know that s/he can reach out will help alleviate any stress over being a bother while reducing communication that otherwise gets inadvertantly lost in the cracks.
Let Candidates Know How Finalists Are Selected: It never ceases to surprise those who aren't already familiar with the situation, but the process used for actually selecting a finalist varies, in some cases wildly, from one orchestra to the next. Some groups provide each member of the committee and the music director one vote each and the winner is determined by a majority but in others the music director may have a weighted vote. Others have the committee select a short list of finalists then the music director selects one from that groups. Typically, this process is spelled out in the collective bargaining agreement so there should be no trouble providing it to candidates along with typical audition details.
For those interested in learning more about these issues, the International Conference of Symphony and Opera Musicians (ICSOM) maintains a Code of Ethical Audition Practices, which was first adopted in 1984. The code is a collection of recommended guidelines as opposed to an enforceable regulation; at the same time, most orchestras use it to help determine their own practices.
I'm curious to hear about any items within the existing apply-audition-award audition process you think would benefit from change.
In the meantime, Vu Le ends his post with some insight that the orchestra field not only could, but should take to heart.
We need to shift our perception of candidates as people who are lucky if they get a job with us, toward the belief that all of us are working toward building a better world. The success of our work depends on our people. Let's treat everyone with consideration and respect and let's live out our principles of equity and community.