While it isn't unusual for national unions to endorse presidential candidates (the American Federation of Musicians endorsed Hilary Clinton in 2016), it isn't common to see AFM Locals to endorse a candidate.
The 2/12/2020 edition of Variety published an article by Chris Willman that reports AFM Local 47, which represents Los Angeles area musicians including those from the LA Philharmonic, endorsed Bernie Sanders for president.
In making the announcement, the union…acknowledged that the endorsement was "an unprecedented move for a union historically removed from taking official stances in presidential elections." Yet it said that support for endorsing Sanders was unanimous among the two boards charged with approving the move, as the motion by the local's political action committee was taken up and approved by the entire elected executive board.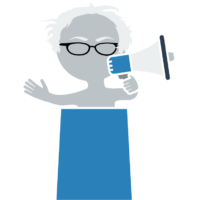 The Variety article points out how unusual this is and five years ago I would have likely had more to say on the matter. But now we live in the age of gaslighting so pretty much everything is off the table when it comes to politics.
Unionized musicians aren't alone in taking political stands. Remember when the San Francisco Symphony cancelled a two-day set of concerts in Chapel Hill, NC "in response to that state's House Bill 2 (HB2), a law which overturned protections for lesbian, gay, bisexual and transgender individuals earlier this year?" It happened in 2016.
Seattle Symphony organized a concert in support of immigrants as a response the to the Trump administration's Muslim ban from 2017.
Consequently, don't be surprised if Local 47 isn't the last AFM Local to wade into endorsement waters.