If you're not familiar with the Santa Monica Symphony Orchestra, it's a community orchestra with an annual budget in the low $100k range. Their concerts are free of charge and apart from a few paid ringers, the musicians are volunteers and students. At the same time, that hasn't stopped the group from becoming the focus of controversy.
Norm Lebrecht has been following developments since July at slippedisc.com and since then, several traditional news outlets have published articles. One of the latest additions to the mix came from NPR's Lulu Garcia-Navarro, who included the topic as part of the 8/13/17 Weekend Edition.
If you aren't up to speed, the details are straightforward:
The orchestra engaged conservative radio talk show host Dennis Prager to conduct a fundraising event.
Several musicians took issue with this decision; four of them went so far as to publish an open letter encouraging patrons not to attend and explaining why they will not be performing at the event.
In response, Prager recently released a strongly worded statement via an interview with The Hollywood Reporter.
The orchestra's leadership has attempted to play down the controversy but it's well past the point of fading away.
Although it's easy to get lost in the rabbit hole of discussion points on this topic, it's worth considering that one of Prager's views the musicians take issue with most is what they define as his clearly defined anti-LGBTQ and anti-immigrant positions.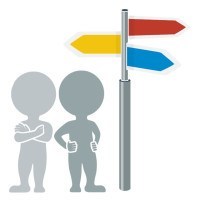 Before you retreat to the comfort of "the arts should avoid politically charged issues" position, don't forget that some of the largest organizations have started staking out clear policies that avoid being involved with individuals and/or institutions that do not embrace equal rights.
In December, 2016 the San Francisco Symphony cancelled a two-day set of concerts at Chapel Hill N.C. in response to that state's House Bill 2 (HB2), a law which overturned protections for lesbian, gay, bisexual and transgender individuals.
A few months later, the Seattle Symphony Orchestra organized a concert in support of immigrants as a response to the Trump administration's Muslim ban. The concert featured music programming music from Iran, Iraq, Libya, Somalia, Sudan, Syria and Yemen, was free to the public, and simulcast. It sold out within hours of being announced.
When it comes to fundamental issues of civil rights and equality, the field of nonprofit performing arts is growing increasingly involved. The controversy in Santa Monica is the latest waypoint on that path.
I'm curious to hear what you think.