The folks over at LaPlaca Cohen and Slover Linnet released the latest installment in their Culture Track series and as always, it's filled with wealth of useful information.
The results from this round included surveys and research from the latter half of 2021 and by this point, the group had a much deeper well to draw from and unsurprisingly, patterns (and surprised) started to form.
Here are some key takeaways:
"More Americans are reporting negative emotions a year in the pandemic than in the early days."
Granted, this shouldn't come as a surprise, but the jump still raises eyebrows:
"…more Americans said they were sadder (41% vs. 29% in Wave 1), more depressed (41% vs. 29%), angrier (29% vs. 25%), and less connected to others (60% vs. 44%)."
"Most Americans believe arts and culture organization should be addressing social issues-with systemic racism at the top of the list."
According to the report, this was a new topic they began to explore in this wave of research.
"…more than three-quarters (76%) of Americans believe that arts and culture organizations should be addressing at least one of the social issues we asked about on the survey."
It's worth noting that the single most-selected issue was systemic racial injustice, followed by income inequality and the wealth gap tied with climate change and natural disasters.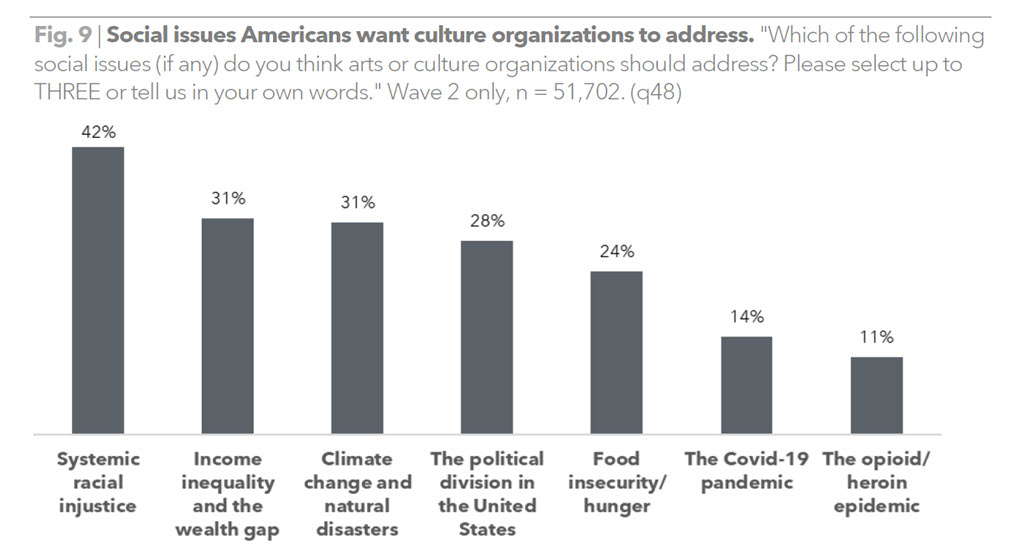 Download the full report or visit the report page to download just the executive summary and appendices.