Perhaps the one thing that sets the Black Orchestral Network (BON) apart from similar efforts is how much importance they place on accountability as a key to measuring success.
In their open letter to American Orchestras, words are rarely minced. Systemic issues are clearly identified and after reading through their material several times it seems clear this group of musicians have grown weary of the gap between equity word salad and measurable outcomes.
"As Black musicians within this community, we have too often experienced significant barriers to inclusion, inequities in treatment and process, and indignities and devaluing of our musicianship and talents. The systems, structures, policies, and culture within our community, and the stunning indifference of many of our leaders and colleagues, have perpetuated and exacerbated our experiences of exclusion."
Not a single word is wasted or superfluous in that statement.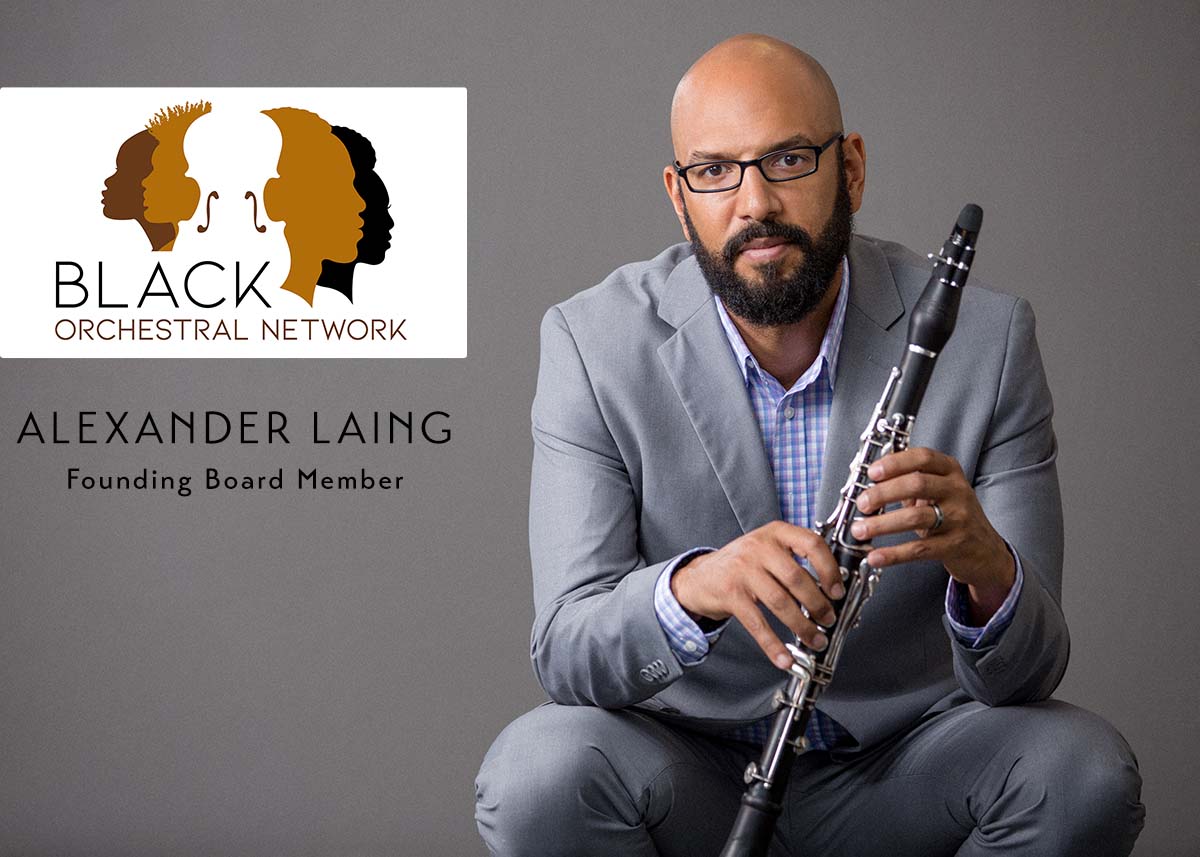 While the information was inspiring, I walked away with questions. As such, I reached out to BON's spokesperson, clarinetist Alex Laing, who also serves as one of seven founding board members.
Laing is the principal clarinet of the Phoenix Symphony, a nationally recognized speaker, and an accomplished instrumental artist. His work, both as a performing artist and as an artist who teaches, represents a modern take on the orchestral practice. Passionate and curious about organizational culture, design, and learning, his practice navigates the push and pull between the tradition of a legacy art form and its unfixed future. In short: Alex is a musician who believes that "music is not just sound, it is sounds and words and people."
Q. After discovering BON via a LinkedIn post from fellow Founding Board Member, Jennifer Arnold, I started going though the website and it became clear that this was a wholly new organization. How do these efforts work in tandem with and/or separate from Sphinx Organization's efforts, such as the National Alliance for Audition Support they put together with the League?
A. We think that 'Dear American Orchestras' will work to bring attention to existing efforts and projects like those that the Sphinx Organization has spearheaded — SOPA and NAAS — and we think that's a good thing.
Q. I'm particularly interested in how BON would define expectations for the AFM and player conferences? I'm not sure how to define what the PR defines as "honoring the values" and "addressing barriers." How would BON define those in plain-English for anyone who isn't a musician or administrator? For example, is a talking session at each summer conference sufficient or do those actions have more defined outcomes?
A. Our initial and most detailed call – to change the mindset, set targets, and be accountable – will be answered with action or inaction at the individual orchestra level. Inside individual orchestras, musicians play a critical role in determining the agenda, particularly when it comes to hiring. We know that our colleagues seeking to answer this call will be working within the governance structures of their orchestras and we know the [American Federation of Musicians (AFM)] and its player conferences [International Conference of Symphony and Opera Musicians (ICSOM)] and [Regional Orchestra Players Association (ROPA)] figure prominently in those structures. Our expectation is that the AFM, ICSOM, ROPA will stand with us and offer strong, clear encouragement to answer our call and provide support to musicians who are working to do that within their orchestras.
Q. At the website, there's a great section titled "Be Accountable" that clearly states there's an expectation to produce a written commitment with specific steps. Measurable expectations are a marked departure from previous efforts from other organizations. Are expectations for the Union and Funders similar?
A. In terms of accountability, we've called on our player conferences (ICSOM, ROPA) to update their annual surveys to reflect measures of diversity, inclusion, and belonging so that we can establish baselines and track progress against those. Accountability is key, particularly at the individual orchestra level where hiring strategies and decisions are made. That's why we're asking funders and the union to direct their attention and energies towards supporting individual orchestras that are answering the call – those that are moving beyond symbolic statements and good intentions to taking action and being accountable.
Author's note: the BON website also lists including Black voices, artistic and/or legal, on bargaining teams.
Q. What does BON's best-case outcome look like by the end of the 24/25 season?
A. As it relates to the 'Dear American Orchestras' campaign, the best-case outcome by the end of 24/25 would be a notable increase in the hiring of Black orchestral musicians and every professional orchestra having answered our call to action and developed a plan with resources, targets, and timelines to dramatically increase the hiring and retention of Black orchestral musicians. We know where we stand, and by the end of 24/25 we'll know where everyone else stands too.
In terms of the rest of the work BON is here for – cultivating community, telling our stories – we know the end of the 24/25 season will find us:
having convened our community multiple times, in multiple ways;
discovering in an emergent way where our community wants and needs us to be;
inside a rich and growing network of Black orchestral artistry
Q. The BON website mentions plans to highlight progress across the various constituents in the sector. What can we expect those efforts to look like?
A. Our website and social channels will certainly highlight progress as it is happening; after next season it will make sense to issue a report.
Get Involved
If you want to get involved with BON, you can sign their petition to support equitable change for Black orchestral musicians. BON also accepts donations at their website.
In Their Own Words
The Black Orchestral Network started with a theory: if we increase our connection to one another, we can harness our creativity and develop initiatives that benefit Black musicians. In the tradition of organizations like the National Association of Black Journalists and the National Society of Black Engineers, BON seeks to create an inclusive and equitable environment for Black people in the orchestral field. We see a world where Black orchestral artists easily find reflections of themselves and their complexities in the history and future of orchestral music.