I was thrilled to see an article in the 3/29/2009 edition of the Chicago Sun-Times by columnist  that examines the Chicago Symphony Orchestra's (CSO) new website. By and large it is a very complimentary article but one item of note is the attention focused on how important usability is to revenue performance. In the article, CSO vice president for sales and marketing, Kevin Giglinto, emphasizes that every effort was made to make the online ticket buying process as streamlined and easy as possible…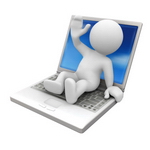 I have yet to go through the new CSO website in detail but it will certainly receive a thorough analysis in the fall as part of the annual orchestra website reviews. Nonetheless, one of the obvious design changes is the switch from a vertical to horizontal layout, the latter being defined in the CSO's case by a large, graphic-rich slider (along with wonderfully rich graphics).
This is all quite timely as we recently examined website usability issues a few weeks ago and not long before that, the process behind selecting and implementing vertical vs. horizontal design layouts. Although the new CSO site is mostly complete, the Sun-Times reports one new component yet to be launched is a social networking module that Giglinto says will be launched in a month or so.
Ultimately, it is wonderful to see this sort of general public attention focused on orchestra website development. Simply put, traditional outlets for selling tickets are becoming more expensive and less productive. Turning to enhanced website development and elevating the institutional website to a primary position within the overall marketing strategy is a winning decision. It will be interesting to see what sort of impact the CSO's new website will have on revenue development and outreach.
In the meantime, check out the new CSO website yourself and leave a comment below with your thoughts and observations. Did you use the previous site; if so, how do you think the new site compares? If this is your first time to CSO.org, what about the site catches your attention?