That's precisely what the Joffrey Ballet accomplished through a Groupon "deal of the day" offer in the Chicago area. Details are available in the 9/3/2010 edition of the Chicago Tribune in a blog post by Chris Jones but in a nutshell, Joffrey leveraged Groupon's popularity (as a Chicagoland resident, I can say it's great) but there are a few other items worth noting…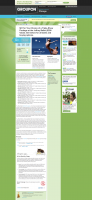 The nearly 60 percent discount over the regular subscription price. It might lower overall revenue but who cares? It puts butts in the seats (assuming everyone shows up for concerts) and if a quarter of those individuals re-subscribe for the 2011/12 season, then it's a win-win over not selling tickets. Hopefully, the group anticipated the revenue hit and used the opportunity to find a donor willing to pad the difference (an approach we've examined at length over the years). If not, the success and exposure makes it an excellent development pitch!
In light of the fact that the subscriptions aren't geared toward dumbed down programming, Joffrey has an excellent opportunity to conduct some market research, especially if enough of the Groupon buyers are newbiews.
Social networking sales efforts do have potential. This has been an ongoing debate within the field for a few years now with each side presenting worthwhile points but the Joffrey example demonstrates the trick is plugging into something designed and executed properly, like Groupon, as opposed to similar efforts via Facebook ads, etc.
I can almost hear critics saying that offering up deals through Groupon will only train ticket buyers to hold out for those deals, thereby lowering revenue development. That is certainly something to be concerned about but perhaps it is simply an indication that single tickets and subscriptions are indeed overpriced and we're missing the bigger picture by maintaining artificially inflated ticket prices.
The Lyric Opera of Chicago enjoyed some success with Groupon last season and now the Joffrey Ballet enjoyed a turn. It will be interesting to see if a host of other Chicagoland arts groups jump on board and if so, will it flood the market and dilute everyone's success or will they discover that there's enough interest in (competitively priced) arts offerings to expand markets beyond previously suspected limits. My money is on the latter.