Thank goodness for the Daily Show with Jon Stewart. On 6/1/2011 Stewart's guest was Bill Moyers and their discussion about the current failings of journalism in response to an increasingly obfuscation oriented environment might as well have been about the orchestra business. In short, Moyers doesn't like to interview politicians because their language is designed to conceal. Hopefully, this should strike a chord with you…
Watching this interview was enormously gratifying because it expresses precisely what I've been noticing over the course of the past several years by way of writing this blog, but haven't been able to summarize in such accessible terms. In short, the business had become professionalized to such a degree that it is increasingly falling victim to the dangers Moyers and Stewart examined in the world of journalism and politics. This is particularly applicable in our field during situations defined by financial pressures, intense labor unrest, and inefficient stakeholder communication.
Here's the initial intellectual bombshell Moyers tosses out when discussing individuals in leadership positions.
"People don't want to keep their opinions hidden but they want to keep the facts hidden."
In the second half of the interview, Moyers and Stewart continue to dive into this topic. Two excerpts from Moyers' observations struck me as what exists as what may arguably be one of the greatest problems in this business right now.
"Their language is designed to conceal; I like to interview people who want to reveal their thinking…they won't put it in that fog of deception."

"They're not willing to engage…they are always trying to make sure you don't understand what you say, even though they may use simple words to express it."
This segment should hit you with an almost religious intensity. I experience precisely what Moyers defines in my own blogging with growing frequency, but these same problems persist through the larger spectrum of the field. One profound example as of late was the WQXR panel discussion about the orchestra business and I hope anyone attending the League of American Orchestras conference this week takes all of this to heart while attending any sessions, especially the hastily organized plenary session that purports to "speaking openly and frankly about our challenges."
As an aside, I would add that the claim to speak openly and frankly about the field's primary challenges could be interpreted as disingenuous when the League rebuffed an offer from International Conference of Symphony and Opera Musicians (ICSOM) chairman and North Carolina Symphony bassist Bruce Ridge to participate in the panel at ICSOM's expense (there will be considerably more detail on that soon so stay tuned).
But back to the point, these conversations have far more to do with what Moyers described as "narrating [an] impression of the world" as opposed to honestly revealing the thought process and the reasoning behind what some might consider dangerously counterproductive behaviors.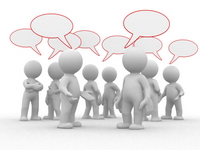 It's worth noting that even though the Stewart/Moyers interview was a conversation between two individuals about a profound topic, it provides enormous benefit for everyone watching. As such, I hope Tony Woodcock will swing by to watch the above clips and see the value in my 5/12/2011 offer to conduct a live conversation that will be broadcast free to all.
In the end, the type of conversations Moyers outlines are precisely what this business is yearning for. But it's going to go unfulfilled unless everyone inside the field demands it.