If you're a weekly email summary subscriber, you'll notice a new look for today's email blast. Thanks to a great set of metrics tools provided by the email marketing client along with the bevy of beefy offerings from the powerhouse that is Google Analytics, the weekly email has been streamlined to provide much more of what folks are looking for and function even better on mobile platforms like smartphones and tablets.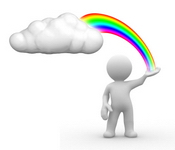 But what's really worth mentioning here is just how little time it took to dig through all of this data compared to tools that were available even a year ago. When combined with improvements in ease of formatting email content, the entire process, from analysis to final design, took less than two hours where previous redesign efforts took a day or more.
It all serves as a good reminder that if you haven't popped your head up to take a hard look at what the enhanced Google Analytics offers along with the fantastic email marketing tools from providers like VerticalResponse and MailChimp (for my money, hands down the best providers around right now) then do yourself a favor and make the time.
Here's a peek at the new layout's mockup and if you're interested in getting on the mailing list, head over to the subscription page and sign up.