About a decade ago, the notion of ticketless events was a hot topic but it was several years ahead of its time. Fortunately, the technology curve is beginning to catch up and we're at a point in time where affordable solutions that are also user-friendly for both patron and organization have started trickling into the market.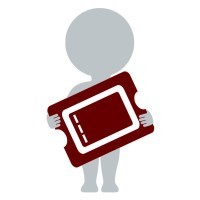 Joe Patti recently touched on this topic over at Butts In The Seats via a post from 3/16/2016 where he focuses more on the interpersonal connection, patron mindset, and lobby logistics angles rather than technological implementation. It got me thinking about this issue again and as a result of some experiences over the last year, I'm moving toward an inescapable conclusion that arts orgs need to demand more of their box office and ticketing providers to step up ticketless box office development.
As of now, too many providers are either woefully behind that development curve or they charge so much for a (usually mediocre) solution that the return on investment simply isn't worth it.
Case in point, AMC Entertainment Inc. (which owns AMC movie theaters) launched a digital ticket buying process that allows patrons to completely side step the box office or any ticket kiosks. The entire procedure takes place via a Smartphone/tablet app that generates a QR code after purchase which you show to the employee taking tickets.
Since using the app, I've been to a few different AMC theaters in the Chicago area and some print a tiny paper receipt after scanning your digital ticket while others simply let you through to your theater. In both cases, the process was substantially faster than wading through the box office lines or lines at paper ticket dispensing kiosks. Not only does this make the entire process far more pleasant but it managed to increase my patronage frequency.
Smaller Is Better
Although some smaller budget groups may bemoan the lack of options for box office solutions that accommodate traditional subscription sales, that lemon becomes a tasty glass of ticketing lemonade in this scenario.
For example, some ticketing provides, such as Eventbrite, may offer individual seat selection but they still don't offer traditional subscription sales or subscription management. And for groups that absolutely, positively must sell subscriptions, that is pretty much a deal breaker. At the same time, they do offer one of the more refined and affordable ticketless solutions available. And since smaller budget groups aren't shackled to the subscription model the same way their larger budget peers are, they are in a better position to leap frog ahead in this area.
Eventbrite makes the process even easier for small budget groups to implement thanks to a mobile device only app that scans digital tickets and records everything in your organization's Eventbrite database. For those needing more on-site options, there's a digital box office solution available as well that allows groups to process check, credit card, and cash payments. There are even ticket printer options available if desired.
Over the course of this season, a few of my Venture Platform users switched to this option and based on their feedback, the solution has been working out nicely. In most cases, older patrons aren't having trouble buying tickets online nor using digital tickets at the door. By and large, these groups are noticing a drop in overall box office related frustrations for patrons. One group even managed to implement a membership program that is compatible with the way Eventbrite sells tickets.
So far, they've been generating more earned income revenue with that option rather than their traditional subscription offering, which still has to be managed entirely by mail/phone/email and tickets set aside manually. In short, the traditional model is a rapidly diminishing return on investment when all of the staff hours are added into the equation.
In the grand scheme of things, an affordable and reliable turn-key ticketless option is still in its early stages. But these early steps provide options for the field that are leaps and bounds ahead of where we were just a few years ago. Ideally, this momentum is only the beginning of a larger development surge.