Although comprehensive details in the form of the final agreement language won't be available for a few weeks or more, some aspects of the new agreement have been made public. Based on information included in a press statement, here's what can be discerned:
Length: 9/2009 (retroactive) – 8/2011; or the 2009/10, 2010/11, and 2011/12 seasons.
Compensation: Freeze for the first two years, then a 3% raise in the first half of 2011/12 and an additional 2% raise in the last half.
Musicians will not have increased medical insurance premiums (this point was updated @ 9:12am CT).
In addition to these items, the statement indicates that the musicians will donate up to 10 services "which will provide cost relief and additional revenue for the Musical Arts Association." It isn't entirely clear how that will unfold but assuming that it is something occurring on an annual basis and is an across the board service donation schedule for the entire membership, that would amount to approximately 2% of their annual compensation.
So assuming all things are equal (and that's a big assumption without the actual agreement in hand), the musicians agreed to incorporate two-fifths of management's proposed pay cut without actually having the pay cut appear on paper in the form of reports and job announcements. For executives, this is something that happens on a fairly regular basis in the form of a predetermined contribution in lieu of an official pay cut; however, it comes with the added benefit of being able to deduct the contribution as a charitable donation.
Since a picture is worth a thousand words, here's a quick chart comparing the base musician compensation history of the Cleveland Orchestra with the National Symphony Orchestra.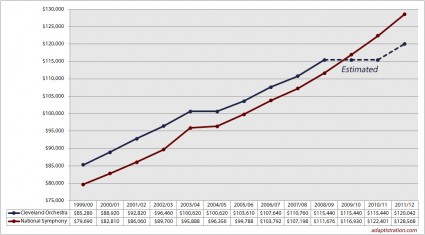 Regular readers will recall the reason behind comparing these two ensembles from the article on 1/11/2010 which examined an updated analysis of top tier base musician compensation. In that article, it was hypothesized that the Cleveland Orchestra's base musician compensation may fall below the National Symphony Orchestra and pull even farther away from their traditional compensation peers. Assuming the estimated figures in the above chart are accurate to within +/-2%, it looks like for the first time in the Cleveland Orchestra's history, this element of the organization will be closer to ensembles outside their traditional peer group consisting of Boston Symphony, Chicago Symphony, Los Angeles Philharmonic, New York Philharmonic, Philadelphia Orchestra, and San Francisco Symphony.
Assuming there are no major changes in base musician compensation levels in extended peer groups, the Cleveland Orchestra will be in the middle of a new tier immediately below that group consisting of the National Symphony Orchestra and Pittsburgh Symphony Orchestra (and possibly Detroit, but that won't be known until that group concludes their current labor negotiations).
Rest assured, we'll revisit the above information once additional details have been made public.