With all the news surrounding Cleveland Orchestra's ongoing labor negotiations, it made sense to revise and double check the base musician compensation figures for the highest budget ensembles. As it turned out, the Cleveland Plain Dealer requested exactly that for an article they published on 1/6/2010 so the timing worked out nicely. As a result of those efforts, I was also able to update and expand the historic compensation review that was published in January, 2007 and the results are fascinating…
One significant change from the 2007 examination to today was to expand the number of orchestras from seven to eleven in order to include the orchestras from Detroit, Pittsburgh, Cincinnati, and National (Washington D.C.). Since the 1999/00 season, this group has historically comprised the compensation strata immediately below the "Big 7."
This becomes significant when you take a closer look at Cleveland since the terms of their (hopefully) impending agreement will determine whether or not their base musician compensation level falls below a peer outside of the traditional "Big 7" (Boston Symphony, Chicago Symphony, Cleveland Orchestra, Los Angeles Philharmonic, New York Philharmonic, Philadelphia Orchestra, and San Francisco Symphony). An event like this hasn't happened in over a decade so it can be said that the results from Cleveland's efforts will have more impact than a typical large budget orchestra negotiation.
Here's an admittedly blurry preview of what the revised and expanded base musician compensation chart looks like: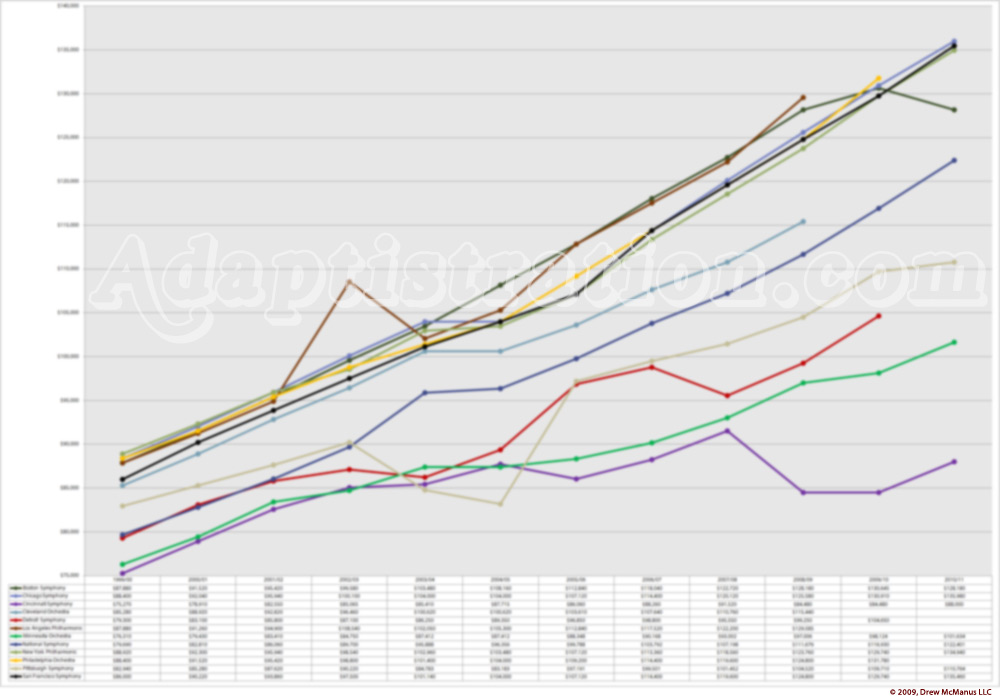 If you're interested in seeing the big, clear, super-easy-to-read full chart, you can go about that two ways:
Become a registered user (you get all sorts of great benefits) AND subscribe to the Adaptistration weekly email summary (make sure you use the same email address for both).
Treat yourself to a compensation or full subscription at Adaptistration Premium. Existing members will receive their chart tomorrow and new subscribers will receive a copy along with their paid subscription.