Since the concert experience has been the focus of several recent posts, it made sense to highlight some of the more popular articles on that topic over the years for today's #TBT.
But perhaps more importantly, I'm curious to know what topics you think should be at the top of the sacred cow barbeque discussion list.
Credit for that idea goes out to composer and educator David MacDonald and a comment he left to the 6/7/2013 article Join The Sacred Cow Barbecue (unless you live in NYC).
Reading your headline, Drew, I was really hoping that you were announcing some kind of informal conference-like gathering at which participants would be invited to eat barbecue and have a frank discussion about the entrenched dogmas of classical music.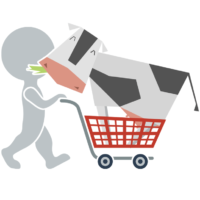 I thought that was a great idea in 2013 and it's perhaps even more relevant today. And unlike 2013, I now know a guy that makes his own show stealing barbeque sauce (I know, that's a bold claim among barbeque aficionados), so perhaps there is room for bringing David's idea to life. Swing back in Spring 2019 for an update.
There are no shortage of topics to include on the list but I'm curious to know which ones stand out most to you.
In the meantime, here are some of the more popular posts on the topic throughout the years.
Hey Get That Violin Case Out Of This Concert Hall! What Do You Think This Is, A Concer…oh wait
And We Would Have Gotten Away With It Too, If It Weren't For You Meddling Patrons