It should come as no surprise to anyone with more than a handful of experiences attending live classical music events to realize that there are more than a few traditions that accompany the concert experience. Equally unsurprising is how effective some of those traditions are at alienating concertgoers and one in particular that has been catching my attention is the moratorium on taking photographs.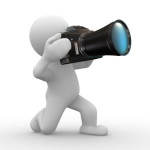 Granted, I'm not here to endorse the policy of allowing concertgoers to take photos during the concert but I completely fail to see the problem with it at any other point in time.
Two recent family concert events here in the Chicagoland area drove this point hit home after witnessing several ushers verbally swat down parents who wanted to use their Smartphone camera to take a photo of their children inside the actual concert hall.
It was happening so frequently that ushers looked more like angry birds bouncing around from one offender to the next squawking the "no photos allowed" mantra.
But the genuinely profound moment was when a family sitting dead center in the front row got swatted down and after the usher left, one of the orchestra musicians came up and asked if she could take their photo from the stage. Angry bird usher was none too pleased but he kept his distance.
Historically, there are a number of reason why photographs haven't been allowed inside concert halls and I started compiling a list but after reading it out loud, it sounded so ridiculous that it wasn't even worth mentioning. Simply put, in the social media age there are simply no good reasons to keep patrons from capturing moments when the live event isn't underway.
It's time to put this sacred cow down and let concertgoers revel in the concert experience and share it with their social media networks or simply keep the photos as personal keepsakes. As a whole, we're doing far more harm than good by prolonging this unnecessary restriction.
And to the groups out there who have already embraced this idea, kudos to you!