I received a note from Alan Gordon, the National Executive Director for AGMA, about a significant development regarding their Health and Retirement Plan.  As of December 7th, 2004 the union adopted a provision that:
" redefines 'spouses' so as to include same sex couples who are married under the laws of any jurisdiction or state without regard to the state in which they reside."
In a recent press release, Alan Gordon is quoted as saying:
"Our union, the opera and ballet companies that employ AGMA artists and all of our Health and Retirement Plan Trustees have always taken the lead in accommodating the interests of AGMA's membership and the Plan's participants. We have long recognized the appropriateness of providing health insurance coverage for domestic partners and extending that coverage to any of our members who are legally married in any state or country is the logical extension of that policy."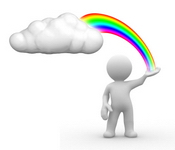 This is an interesting development related to a recent article I published which examined some of the symphonic orchestra contract language which deals with domestic partner issues.  The recent provision adopted by AGMA far surpasses anything that a symphonic orchestra contract has except perhaps the New York Philharmonic, but that's a tricky situation to describe which deals with the issue directly, but in a very different way than the AGMA solution.
One other difference which may allow AGMA for freedom than its ICSOM and ROPA colleagues is that it does offer a union wide health benefit plan.  I wrote to Alan and asked him to help explain their program and he said,
"There is a Taft-Hartley based AGMA Health & Retirement Plan.  We try to negotiate it as a benefit for our members in most of our collective bargaining agreements.  Some companies like the Met have their own health and/or retirement plans, which are better.  Where a company doesn't, we negotiate for ours."
I followed up by asking Alan why the AGMA trustees decided to adopt this new provision,
"Although the [Health] Plans had earlier recognized domestic couples as families, it was unclear how the Plan would treat same sex marriages," Alan said.  "The Trustees, obviously, believed that including same sex marriages from jurisdictions that lawfully married same sex couples should likewise be covered, without regard to where the married couple lived after their marriage."
This certainly isn't an issue where just the unions are getting involved.  Some managers think these policies are just as good of an idea. According to Mark Weinstein, Trustee Chairman and Executive Director of the Pittsburgh Opera,
"Our position is that legally married couples are entitled to the same fundamental right of access to healthcare regardless of their sex or the state where they reside."
When I interviewed symphonic orchestra managers and orchestra committee representatives from orcehstras located in different states whether or not they had to consider their respective state laws regarding domestic partner or same-sex marriage language in their contracts they were all quite concerned over that issue.  So I asked Alan if State Law was a consideration when they drafted this provision and he said,
"It's not yet clear what effect, as a matter of federal law, the extent to which one state must  recognize a same sex marriage in another state. Thus, for example, a couple married legally in San Francisco isn't considered married in most other states.
Since our Trustees focus on providing the best coverage for participants in the plan, and because our artists travel among the states to work, and because we always try to be on the cutting edge of the arts world, we decided to bypass that issue and recognize that once people are legally married anywhere that allows them to marry they are 'married' under the terms of the plan, regardless of where they live."
This certainly is a significant step in the issue of recognizing same-sex and domestic partner status among performing arts collective bargaining agreements.  I'm certain that a wide segment of the industry will be keeping a very close eye on AGMA's new provision as well as using it as a template for drafting similar language into their collective bargaining agreements.