Ever since the Berlin Philharmonic launched their digital concert hall feature last season, subscribers to the complete season of webcasts have been steadily growing. Adaptistration reader Michael Brewer provided a first-hand review of the Philharmonic's initial offerings back in January, 2009 and based on that perspective it seems like the folks in Berlin might be on to something. It will be interesting to see how several months of planning have helped iron out technical wrinkles but I find myself wondering more about the business plan behind the venture…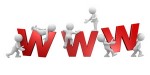 For example:
What sort of ancillary costs have they incurred since the initial project expenses (equipment, bandwidth, labor, etc.)?
What are the 2009/10 revenue and subscriber benchmarks and what process did they use to identify them?
Do they anticipate the project becoming a profitable revenue stream; if so, when?
What sort of arrangements has been made with soloists for webcast fees?
I've been trying to contact the folks in Berlin for the past week to uncover some answers but German email gremlins have been preventing meaningful email exchanges (not to mention taking their website offline for hours at a time). Nonetheless, uncovering the answers to these questions and more will be enormously useful when it comes to seeing if the process used by Berlin can be adopted anywhere here in the US.
In the meantime, let's measure the level of interest in Berlin's Digital Concert Hall among Adaptistration readers:
[poll id="11″]