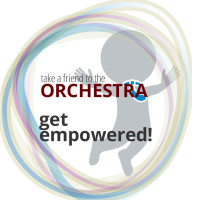 Yesterday's post referencing the Take A Friend To The Orchestra program ended up inspiring me to take a spin through some of my favorite contributions. For readers who have joined since after the program went into stasis after 2013 but for nine years' prior, the Take A Friend To The Orchestra project featured more than a dozen critics, bloggers, musicians, classical music enthusiasts, and administrators writing about how average patrons throughout the country can invite friends who don't regularly participate in live music events to a performance in your area.
Although every contribution is worth exploring, a few have always maintained a special connection with me and it was a genuine treat to revisit them: Alex Ross, Alex Shapiro, David J. Loehr, Elizabeth Lunday, Frank J. Oteri, George Daugherty, George Hunka, Jeremy Denk, Jonathan Becker, Matthew Guerrieri, Molly Sheridan, Sam Bergman, and William Eddins.
But that's just the tip of the iceberg, head over to the resource site and you'll find all the contributions categorized by year, contributor type, and author. And if you're so inclined, take a moment to post a comment here pointing out your favs and why you find them special.
GET EMPOWERED!