There's a great article in the 12/21/2019 edition of The Washington Post by Abha Bhattarai that examines the booming business of robots that craft handwritten cards and letters.
While the technology has been around for a few years, vast improvements in quality and lowered price points have conspired to attract a wide range of businesses, including nonprofits. One of the leading providers in the field is Handwrytten, which is featured in the Post article.
As business grew, [Handwrytten's] clientele extended to include luxury retailers, mortgage brokers, car manufacturers and nonprofit groups that pay about $3 per card.
What's more, companies like Handwrytten are focusing on making it easier for small and middle budget groups to use their service. For example, they offer a Zapier app that can automate dozens of tasks that result in generating a robot handwritten card or letter.
Actions inside Salesforce, Google Sheets, Shopify, Microsoft Excel, Gravity Forms, Google Forms, Mailchimp, WooCommerce and dozens of others can trigger action at Handwrytten. They even offer an API so you could pay a programmer to connect it with nearly any existing performing arts org CRM usual suspects.
If you aren't sure how those services can be used, consider something in the low hanging fruit territory such as mailing a Handwrytten card to a patron after they complete an online donation using WooCommerce.
Early Adopter Bonus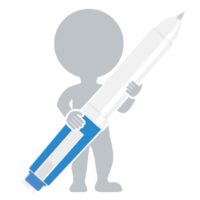 I have no doubt there will be plenty of voices raising concerns with using robots to mimic something like a personally written message.
Let's just cut to the chase and acknowledge that nearly all those arguments are sound.
Having said that, they are also moot.
Right now, we're amidst a sweet spot in time where nonprofits can capitalize on maximizing donor conversion via handwritten messages.
Robot handwritten cards aren't so common that recipients assume something handwritten is created by a robot. As a result, early adopters stand a much higher likelihood for reaping a higher rate of return.
I've been asking around and have yet to find an organization that uses robot handwritten cards (or at least, owns up to it). My hope was to identify a group and see if they had any useful results to share.
Nonetheless, something like end-of-year appeal campaign would be an ideal platform for running an A/B test to see if robot handwritten cards produce a better ROI. If your organization is considering moving in this direction and willing to share your experiences, I'd love to hear about it.